Monday, October 18, 2021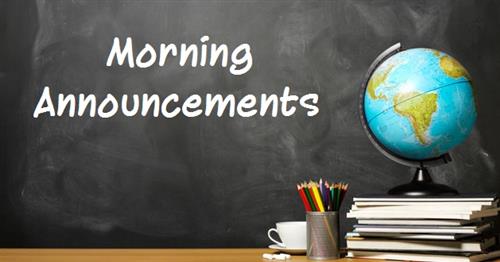 ---
Central High School
Announcements for Monday, October 18, 2021
The mission of Central High School is to provide all students with educational opportunities through a challenging curriculum which meets the needs of a diverse school community.
Teachers -- Please check dress code, have students toss all food and drinks from outside vendors, spit out gum and remove all headgear. Put cell phones away as you enter class. Students may NOT wear earbuds, headphones, or hats in school.
SHOUT OUT ~
Today's big shout out goes to the Marching Pride! Congratulations to the Marching Pride for earning another Grand Championship this weekend at the "SOTCI" Marching Competition at Harris County High School. The Pride once again earned all Superior Ratings in all captains, in addition to Class and Overall Championships in Drum Major, Front Ensemble, and Percussion. The evening ended with the Pride being named the Most Entertaining Band of the Competition and the Overall Grand Champions with the final score of 95.67. This is their 2nd Championship of the year and the 53rd Championship overall for the Marching Pride! Go Pride Go!
NEW NEWS ~
Tuesday is the Carroll County Band Exhibition at 6:30 pm in Roy Richards Stadium. Marching Bands from all 5 County High Schools, Carrollton City, and the University of West Georgia will be performing. Tickets are available through GoFan for $8. Come out and support your Marching Pride!
JROTC is hosting a Spirit Night at Heavenly Bowls on October 21 from 4:00-7:00 p.m. Come enjoy a wonderful dinner and support our Cadets!
This week we will celebrate Bullying Prevention week at CHS. Activities will be held during each lunch period, so please check it out and participate! We will also be conducting a raffle and giving away t-shirts. This year's theme is "CHS Together". CHS celebrates Bullying Prevention to promote empathy, inclusion and acceptance of others. We work to create positive, engaging and uplifting interactions between students. Each day we will share a quote in support of Bullying Prevention. Today's quote is from William James, "Act as if what you do makes a difference. It does."
Come out on Tuesday, October 19, to see the Fall Chorus Concert! The concert begins at 7:00 p.m. at the Carroll County Performing Arts Center. Admission is free.

Students, retakes for school pictures are tomorrow, October 19. If you have not made an appointment, please do so as soon as possible. Links for both underclass and senior pictures are located on the yearbook page of the school website. Retakes will be taken in the JROTC classroom on the 500 hall. If you have made an appointment but don't remember your time, you can check your email for your confirmation response, or send an email to Monica Smith.
Ninth, tenth and eleventh graders who had their pictures taken in September and who did not receive a picture proof via email should ask their English teachers for their online code or send an email to Monica Smith.
PREVIOUS POSTS ~
Central High School is producing Shrek the Musical in Spring of 2022! Audition materials are available in the chorus room. Auditions will be held October 21, 22, and 25, and you can sign up at the Chorus room. See Ms. Phillips if you have any questions.
Basketball cheerleading tryouts are October 18-21. See Ms. Jordan for details.
Men's Basketball tryouts are Monday, October 25 at Tabernacle Baptist Church 4:15- 6:15 p.m. Tryouts are closed. An updated physical and good academic standings are required. No physical - No Tryout. Limited Spots Available. Serious inquiries only. Please sign-up in the front office to be considered for tryouts. Football players who want to try out will also need to sign up so we can schedule an additional tryout for when the season is complete. See Coach Edwards with questions.
AFTER SCHOOL ~
Flag football, JV football and softball plays tonight. Check the school calendar for times and locations.
DUES & DEADLINES ~
Senior Fees: $150 until December 16. Cash or check, see Linda Morris in the Media Center.
Yearbook: $75 . Cash, check, or online with PayPal. See Monica Smith in the yearbook room.
Senior & Underclassman Photo Makeup: Tuesday, October 19. Use the link to sign up for your time. https://forms.gle/tnRvFeH3s9QkwkMN8
It's a great day to be a Central Lion and let's remember the three (3) 'Ps"; Patience, Positivity and Peace!