Thursday, January 7, 2021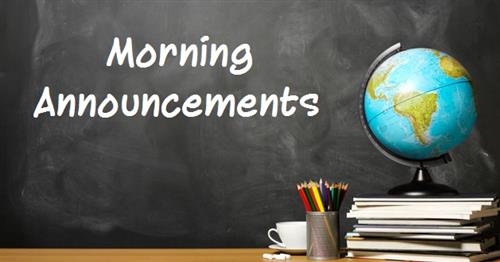 ---
Central High School
Announcements for Thursday, January 7, 2021
The mission of Central High School is to provide all students with educational opportunities through a challenging curriculum which meets the needs of a diverse school community.
Teachers -- Please check dress code, have students toss all food and drinks from outside vendors, spit out gum and remove all head gear. Put cell phones away as you enter class. Students may NOT wear earbuds or headphones in the hallways.
Attention Dream Team: Due to the limited capacity in the gym for basketball and wrestling events, you will have to purchase tickets. No free passes; use the GoFan app to make your purchase.
NEW NEWS ~
The Super Smash Brothers video game tournament has been rescheduled for Tuesday, January 26, after school in the chorus room. If you previously registered for the tournament, please make plans to attend on the 26.
Calling all actors and actresses! Literary monologue auditions are being held on Friday, January 29, after school in the chorus room. Those who are interested should prepare a one minute monologue for their audition. You can sign up for an audition time outside the chorus room.
School picture make-ups for 9th-11th graders will be taken Wednesday, January 13 in the front lobby from 8:00-11:00 a.m. Check your English class Google Classrooms page to find the link for appointments. The link is also posted on the school facebook page and the yearbook page of the school website. You will get an email with your appointment time; use that email as a pass to show your teacher you need to report for pictures.
Attention Chess Club members: Friday, January 8 is the final date to pay for your club tee shirt. See Linda Morris in the Media Center to make your purchase.
Attention Outstanding Seniors and Senior Superlatives: Pictures will be taken this Friday, January 8 at 8:00 a.m. in the front lobby. Please see Mrs. Monica Smith if you have any questions.
PREVIOUS POSTS ~
Chorus is accepting shoe donations through February! Bring your pair in today!
AFTER SCHOOL ~
Soccer tryouts begin next Monday, January 11 after school. Be sure your physical is up to date and on file!
DUES & DEADLINES ~
Yearbook Sales: $90; see Ms. Monica Smith.
Senior Fees: $175; cash only, see Linda Morris. Fees increase February 13!
It's a great day to be a Central Lion and let's remember the three (3) 'Ps"; Patience, Positivity and Peace!