Friday, May 13, 2022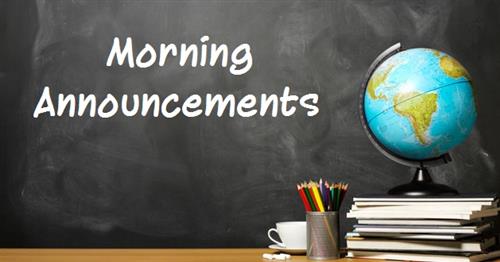 ---
Central High School
Announcements for Friday, May 13, 2022
The mission of Central High School is to provide all students with educational opportunities through a challenging curriculum which meets the needs of a diverse school community.
Teachers -- Please check dress code, have students toss all food and drinks from outside vendors, spit out gum and remove all headgear. Put cell phones away as you enter class. Students may NOT wear earbuds, headphones, or hats in school.
Today is the final day for SENIORS to turn in attendance appeal forms. Underclassmen forms are due next Friday, May 20.
SHOUT OUT ~
Today's big shout out goes to Brandon Musick, Carson Smith, and Mr. Stanley Clarke for being caught in a random act of kindness. Brandon and Carson build shelves in a closet in the Media Center! Thank you!!
NEW NEWS ~
Attention Class of 2023: If you ordered a senior jersey and did not pick it up yesterday, stop by the Media Center between classes to get your shirt. If you did not order a jersey and want one, Scholastic Images will be taking orders again in August. Be sure to join your class Remind, found under the Student button and grade level on the website.
Junior Marshals participating in graduation will have a brief meeting at 8:00 a.m. in the Media Center on Thursday, May 19.
Anyone interested in participating in spring football next week, please see Coach Smiley TODAY to get your paperwork.
Attention juniors: Ready or not, it's time for senior pictures! You have been assigned an appointment time for July 13 or 14. You can pick up your appointment letters during lunch on Friday. Any letters not picked up will be distributed via English classes.
The senior art show will be held on Sunday, May 15 at 6:00 p.m. in the front atrium. Come out and see some of the awesome work they have done over the years!
PREVIOUS POSTS ~
There will be a mandatory parent meeting for anyone planning to play boys soccer next school year. A parent and player must attend either May 20 or May 23 at 6:30 p.m. in the Central High School cafeteria.
It's a great day to be a Central Lion and let's remember, live life to the fullest and focus on the positive.