Monday, May 23, 2022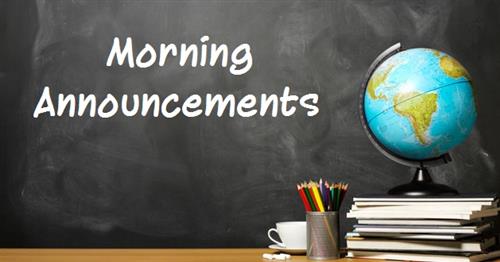 ---
Central High School
Announcements for Monday, May 23, 2022
The mission of Central High School is to provide all students with educational opportunities through a challenging curriculum which meets the needs of a diverse school community.
Teachers -- Please check dress code, have students toss all food and drinks from outside vendors, spit out gum and remove all headgear. Put cell phones away as you enter class. Students may NOT wear earbuds, headphones, or hats in school.
Underclassmen appeal forms are due next TODAY!
Students - If you will need your Certificate of Enrollment and ADAP over the summer, be sure to see Ms. Foley in the main office by next Wednesday, May 25.
NEW NEWS ~
Ice cream flash sale! We're selling all ice creams 2 for $1! Come and get them while supplies last!
Maroon Fest is excited to announce the addition of hometown favorites and Central High School alumni Homegrown and Noah Hicks to our June 25 show at the UWG Coliseum with The Oak Ridge Boys. Tickets on sale at maroonfest.live.
PREVIOUS POSTS ~
There will be a mandatory parent meeting for anyone planning to play boys soccer next school year. A parent and player should plan to attend tonight at 6:30 p.m. in the Central High School cafeteria (if you did not attend last Friday).
It's a great day to be a Central Lion and let's remember, success doesn't come from what you do occasionally, it comes from what you do consistently.