Wednesday, October 6, 2021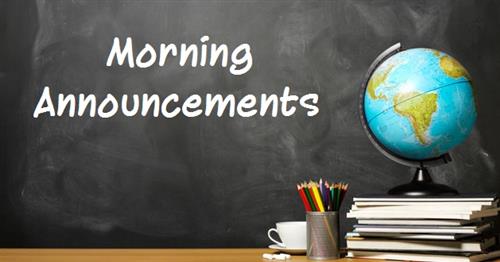 ---
Central High School
Announcements for Wednesday, October 6, 2021
The mission of Central High School is to provide all students with educational opportunities through a challenging curriculum which meets the needs of a diverse school community.
Teachers -- Please check dress code, have students toss all food and drinks from outside vendors, spit out gum and remove all headgear. Put cell phones away as you enter class. Students may NOT wear earbuds, headphones, or hats in school.
Reminder: Homecoming Court members have a mandatory practice for Friday night at 9:20 a.m. in the Media Center.
SHOUT OUT ~
Today's super big shout out goes to the Lady Lions Softball Team for winning the Region Championship last night. The ladies secured the championship by winning the first game of their doubleheader against Pickens County! Great job ladies!
NEW NEWS ~
Today's Hispanic Heritage facts are: Baseball is Venezuela's most popular sport. There has been a professional baseball league in the country since 1945. Colombia is Christopher Columbus' namesake.
Colombia is the only country that has a coastline on the Pacific Ocean and the Caribbean sea.
If you didn't get your Homecoming T-shirt yesterday, stop by and see Mrs. DeFriese in Student Services today!
Men's Basketball tryouts are Monday, October 25 at Tabernacle Baptist Church 4:15- 6:15 p.m. Tryouts are closed. An updated physical and good academic standings are required. No physical - No Tryout. Limited Spots Available. Serious inquiries only. Please sign-up in the front office to be considered for tryouts. Football players who want to try out will also need to sign up so we can schedule an additional tryout for when the season is complete. See Coach Edwards with questions.
Anyone interested in joining the Debate Team should plan to meet in room 725 after school until 4:30 p.m. If you are unable to attend, please see Mr. Conerly in room 725 for more information.
Tomorrow's homecoming theme is School Spirit Day. Show your school spirit by wearing your class colors!
PREVIOUS POSTS ~
Central High School is producing Shrek the Musical in Spring of 2022! Audition materials are available in the chorus room. Auditions will be held October 21, 22, and 25, and you can sign up at the Chorus room. See Ms. Phillips if you have any questions.
Basketball cheerleading tryouts are October 18-21. See Ms. Jordan for details.
AFTER SCHOOL ~
Tomorrow night softball plays at home against Pickens County. Softball will recognize seniors before the game, so plan to come out and show your support for our fabulous senior softball players!
DUES & DEADLINES ~
Senior Fees: $150 until December 16. Cash or check, see Linda Morris in the Media Center.
Yearbook: $75 . Cash, check, or online with PayPal. See Monica Smith in the yearbook room.
Senior & Underclassman Photo Makeup: Tuesday, October 19. Use the link to sign up for your time. https://forms.gle/tnRvFeH3s9QkwkMN8
It's a great day to be a Central Lion and let's remember the three (3) 'Ps"; Patience, Positivity and Peace!