Tuesday, March 30, 2021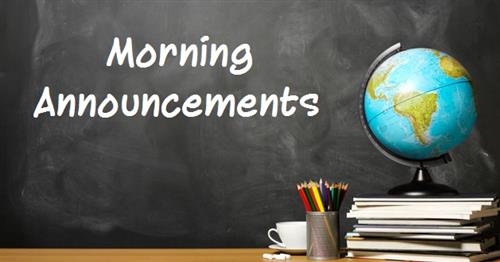 ---
Central High School
Announcements for Tuesday, March 30, 2021
The mission of Central High School is to provide all students with educational opportunities through a challenging curriculum which meets the needs of a diverse school community.
Teachers -- Please check dress code, have students toss all food and drinks from outside vendors, spit out gum and remove all headgear. Put cell phones away as you enter class. Students may NOT wear earbuds or headphones in the hallways.
SHOUT OUT ~
Today's big shout out goes to Nate Handley for being selected by the DAR organization as their Citizenship Essay award recipient. Congratulations Nate!
Our second big shout out goes to the Central High Jr. Forestry Team for placing 1st in the State Forestry Career Development Event last Saturday. They are State Champions in Georgia!!! Team members are Lee Teal, Hayden Buford, Carson Smith, and Spencer Barr.
NEW NEWS ~
Wednesday is a distance learning day, check with your teacher and Google classroom for assignments and meeting times.
Central High School is still collecting bottled water, paper items, and toiletries for the Newnan community. Drop off your donations in the front atrium.
PREVIOUS POSTS ~
Attention Students: If you are interested in playing volleyball next year, plan to attend an informational meeting on Wednesday, March 31 or Thursday, April 1, in the cafeteria. Each meeting will begin at 6:30 p.m. If you are unable to attend one of the meetings, contact Coach Chris Smith.
AFTER SCHOOL ~
Golf travels to Chapel Hill and tennis is home against Heard County.
DUES & DEADLINES ~
Yearbook Sales: $90; see Ms. Monica Smith. Final date to purchase is Friday, April 2, 2021.
Senior Fees: $200; cash only, see Linda Morris.
Prom Fees: Juniors $125, Seniors $70 (for students who did not pay as a Junior). See Ms. Wooten or Ms. Perryman. Date forms and COVID waiver forms are online and available in the classroom. Take care of business early!
It's a great day to be a Central Lion and let's remember the three (3) 'Ps"; Patience, Positivity and Peace!