Monday, September 28, 2020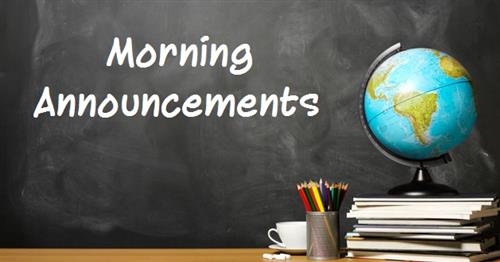 ---
Central High School
Announcements for Monday, September 28, 2020
The mission of Central High School is to provide all students with educational opportunities through a challenging curriculum which meets the needs of a diverse school community.
Teachers -- Please check dress code, have students toss all food and drinks from outside vendors, spit out gum and remove all head gear. Put cell phones away as you enter class. Students may NOT wear earbuds or headphones in the hallways.
Senior fees increase to $150 on Thursday! See Ms. Morris in the Media Center to pay fees before the increase.
Homecoming Court practice is scheduled for Wednesday after school on the football field. If you miss practice, you will not participate in Homecoming Friday night.
SHOUT OUT
Today's super big shout out goes to the Central Lions Football Team for defeating Whitewater in an exciting 29-28 overtime victory on Friday night. Several Lions contributed to the victory. Beau Ivy, Narada Levett, Vicari Swain and Kameron Edge all scored touchdowns for the Lions offensively. Defensively, the Lions were led by Jakobi Almon who had 9 tackles. Christian Cervantes had a caused-fumble and Cortland Caldwell recovered a fumble. The Lions are back in action this Friday at home versus Villa Rica. Congratulations!!
Our second super big shout out goes to the following students for being selected to represent Central High School on the Carroll County Junior Chamber of Commerce:
Kira Babbs, Jackson Burns, Abbey Cole, and Caleb Griffis.
Our third big shoutout goes to everyone dressed in their 'merica Monday attire! Be sure to dress in tie-dye tomorrow for Tie-Dye Tuesday!
Our next big shout out goes to the Lady Lions Cross Country Team for placing 3rd overall at the Darlington Cross Country festival. The Lions were led by freshmen Lucy Barker who placed first in her heat and second place overall. Kudos to Zoe Smith and Karley Bowen who each had top 5 finishes in the JV girls race. Congrats to the boys team who scored a victory over region rivals Heritage Coosa, Southwest Whitfield, and Northwest Whitfield. Great job everyone!
Our final shout out of the morning goes to the JV Volleyball team for defeating Northgate Friday in two straight sets.
NEW NEWS
The Central High School Buddy Club is up and running for the 2020-2021 year and it is going to be great! We are accepting applications for joining from now until October 2. Please see Mrs. Hanson in room 310 if you would like to be a part of this rewarding and fun opportunity!
The Interact Club will host a meeting in the Media Center on Wednesday at 7:45 a.m. We have lots of great activities planned so mark your calendar and attend the meeting!!
PREVIOUS POSTS
Juniors can sign up to take the PSAT/NMSQT in the Guidance Office through September 30. The cost to take the PSAT is $20, or student's can request a fee waiver. Benefits of taking the PSAT as a Junior include: preparing for the SAT, the National Merit Scholarship Program, as well as receiving access to My College QuickStart, a college & career planning tool. Please see Ms. Zerr in 708 with questions.
Attention Seniors: This year's College Fair will be a virtual webinar with over 160 colleges represented! Go to the Guidance Office Classroom and register for one of the mini-fairs scheduled for October 5-7 and November 2, 4-5. Don't miss this big opportunity!
AFTER SCHOOL
Softball plays at Heritage in a double-header tomorrow! Good luck ladies!
DUES & DEADLINES
Yearbook Sales: $65; see Ms. Monica Smith.
Senior Fees: $125; see Linda Morris.
Junior Dues: $100; see Ms. Perryman.
It's a great day to be a Central Lion and let's remember the three (3) 'Ps"; Patience, Positivity and Peace!