Tuesday, October 5, 2021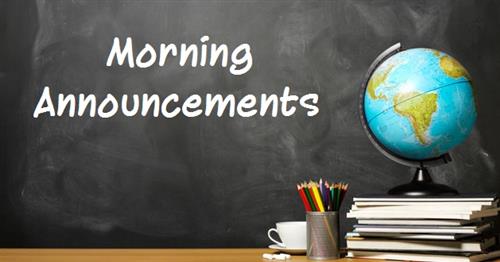 ---
Central High School
Announcements for Tuesday, October 5, 2021
The mission of Central High School is to provide all students with educational opportunities through a challenging curriculum which meets the needs of a diverse school community.
Teachers -- Please check dress code, have students toss all food and drinks from outside vendors, spit out gum and remove all headgear. Put cell phones away as you enter class. Students may NOT wear earbuds, headphones, or hats in school.
SHOUT OUT ~
Today's big shout out goes to Congratulations should go to Max Albright for being the high scorer in the Area 1 (NorthWest Georgia) Agricultural Technology/Equipment Career Developmental Event last Thursday.
Our second big shout out goes to the Junior and Senior Environmental & Natural Resources Teams for placing 2nd in the Area 1 (North West Georgia) Career Development Event last Thursday. Both Teams will advance on to the State Competition in December. Junior team members include Karson Wham who was the high scorer in the contest, Brooks Wilson, Nathan Tiede, and Skylar McLucus. Senior team members include Bradley Kessler, Thomas Good, Lane Skinner, and Spencer Barr.
Our third big shout out goes to the first JROTC Raider Team to compete for Carroll County Schools. Cadets competed in events including the Raider Fitness Challenge, One-Rope Bridge, Cross Country Rescue, Team 1.5 Run, and Relay Run. Students, if you think you have toughness, discipline and courage, see MSgt Peters and join the Raider Team!
NEW NEWS ~
Today's Hispanic Heritage fact is: Argentinians eat an average of 121 pounds of meat per person per year. Belize Barrier Reef is home to a large diversity of plants and animals. 90% of the reef still remains to be researched. Some estimate that only 10% of the species that live here have been discovered.
Interact Club will meet at 7:50 a.m. in the Media Center on Wednesday. Plan to attend and hear the news!
If you purchased a Homecoming T-Shirt, you will be able to pick up your shirt during your lunch today! If you do not have lunch on campus, you may collect your shirt from Student Services on WEDNESDAY.
Men's Basketball tryouts are Monday, October 25 at Tabernacle Baptist Church 4:15- 6:15 p.m. Tryouts are closed. An updated physical and good academic standings are required. No physical - No Tryout. Limited Spots Available. Serious inquiries only. Please sign-up in the front office to be considered for tryouts. Football players who want to try out will also need to sign up so we can schedule an additional tryout for when the season is complete. See Coach Edwards with questions.
Anyone interested in joining the Debate Team should plan to meet in room 725 Wednesday after school until 4:30 p.m. If you are unable to attend, please see Mr. Conerly in room 725 for more information.
Voting for Senior Superlatives will take place today between 8:00 and 1:30 p.m. Superlatives will be announced during Thursday's pep rally.
Tomorrow's homecoming theme is Cowboy vs. Alien Day. Show your school spirit and dress up!
Today is the final day to sign-up for basketball cheerleading tryouts. All paperwork is due October 18, no late paperwork will be accepted.
PREVIOUS POSTS ~
Central High School is producing Shrek the Musical in Spring of 2022! Audition materials are available in the chorus room. Auditions will be held October 21, 22, and 25, and you can sign up at the Chorus room. See Ms. Phillips if you have any questions.
Basketball cheerleading tryouts are October 18-21. See Ms. Jordan for details.

AFTER SCHOOL ~
Softball travels to Pickens County.
DUES & DEADLINES ~
Senior Fees: $150 until December 16. Cash or check, see Linda Morris in the Media Center.
Yearbook: $75 . Cash, check, or online with PayPal. See Monica Smith in the yearbook room.
Senior & Underclassman Photo Makeup: Tuesday, October 19. Use the link to sign up for your time. https://forms.gle/tnRvFeH3s9QkwkMN8
It's a great day to be a Central Lion and let's remember the three (3) 'Ps"; Patience, Positivity and Peace!