Thursday, October 21, 2021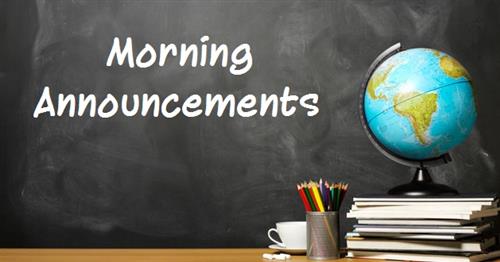 ---
Central High School
Announcements for Thursday, October 21, 2021
The mission of Central High School is to provide all students with educational opportunities through a challenging curriculum which meets the needs of a diverse school community.
Teachers -- Please check dress code, have students toss all food and drinks from outside vendors, spit out gum and remove all headgear. Put cell phones away as you enter class. Students may NOT wear earbuds, headphones, or hats in school.
Today's Bullying Prevention Week quote is from Plautus, "Nothing but heaven itself is better than a friend who is really a friend."
Attention Students and Teachers: Advisement is scheduled from 10:02 - 10:32 today. Please report directly to your assigned location. As part of this advisement session, you will complete the Future-Focused Survey. All students who complete the survey by the end of the school day will have their names entered into a random drawing and 20 lucky students will receive a Chick-fil-a gift card! Finish your survey and enter to win!
SHOUT OUT ~
Today's big shout out goes to Macey Green and Michaela Blakeney for being caught in a random act of kindness. Thank you for helping make picture retake day a smooth operation. Please stop by the Media Center for your free tee shirt and picture.
Our second shout out goes to Gracie Warren for creating the winning tee shirt design for the Southwire 5K run for breast cancer awareness. Sign up to reserve your spot in the 5K by using the link at http://www.southwire.com/breast-cancer-awareness.com You'll receive a free tee shirt with your registration! Great job Gracie!!
Our final shout out of the morning goes to the Central High School Flag Football Team. The team tied with Douglas County last night. Great job ladies!
NEW NEWS ~
Attention all Buddy Club members or students needing community service hours! If you would like to volunteer time and help with the Carrollton Parks and Recreation Department Fall Festival, see Ms. Hanson. The festival is October 27 from 6:00 to 9:00 p.m.
JROTC is hosting a Spirit Night at Heavenly Bowls on October 21 from 4:00-7:00 p.m. Come enjoy a wonderful dinner and support our Cadets!
The Interact Club is collecting cash donations for their polio drive. The 1st period that collects the most will receive a very special breakfast. Interact Club members will deliver envelopes to first period teachers for collecting donations. The donation drive is through Friday, October 29.
FCA will have it's monthly gathering tomorrow morning at 7:30 a.m. Plan to meet outside by the tennis courts - changes and updates will be put out on Instagram and Remind if necessary. Ryan Edwards from Midway will be hanging with us and breakfast will be provided!
There will be a gymnastics informational meeting on Monday, November 1 at 5:30 p.m. in the cafeteria. Interested girls should plan to attend, all are welcome!
Students, if you are in 10th-12th grade, have a 3.75 or higher GPA and you are NOT already a member of Beta Club, check your email!
Invitations to join Beta Club went out to eligible students via student email accounts. Printed copies of the invitations can be picked up anytime from the folders outside room 140. Just stop by and look in your grade's folder for the letter with your name on it.
PREVIOUS POSTS ~
Central High School is producing Shrek the Musical in Spring of 2022! Audition materials are available in the chorus room. Auditions will be held October 21, 22, and 25, and you can sign up at the Chorus room. See Ms. Phillips if you have any questions.
Basketball cheerleading tryouts are October 18-21. See Ms. Jordan for details.
Men's Basketball tryouts are Monday, October 25 at Tabernacle Baptist Church 4:15- 6:15 p.m. Tryouts are closed. An updated physical and good academic standings are required. No physical - No Tryout. Limited Spots Available. Serious inquiries only. Please sign-up in the front office to be considered for tryouts. Football players who want to try out will also need to sign up so we can schedule an additional tryout for when the season is complete. See Coach Edwards with questions.
DUES & DEADLINES ~
Senior Fees: $150 until December 16. Cash or check, see Linda Morris in the Media Center.
Yearbook: $75 . Cash, check, or online with PayPal. See Monica Smith in the yearbook room.
It's a great day to be a Central Lion and let's remember the three (3) 'Ps"; Patience, Positivity and Peace!