Friday, November 19, 2021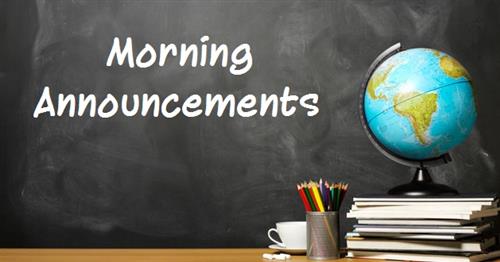 ---
Central High School
Announcements for Friday, November 19, 2021
The mission of Central High School is to provide all students with educational opportunities through a challenging curriculum which meets the needs of a diverse school community.
Teachers -- Please check dress code, have students toss all food and drinks from outside vendors, spit out gum and remove all headgear. Put cell phones away as you enter class. Students may NOT wear earbuds, headphones, or hats in school.
Attention Students: If you need your Certificate of Enrollment or your Alcohol Drug Awareness Program (ADAP) card, you must pick it up by Friday of this week. The school will be closed and paperwork will not be available for pickup until we return from Thanksgiving break.
SHOUT OUT ~
Today's big shout out goes to the Central High School cafeteria staff for making a delicious Thanksgiving feast for everyone! Thank you for keeping our bellies full!
NEW NEWS ~
If you haven't already, make sure you purchase a calendar from an art student, the front office or Ms. Thompson for $10. Art II and III students drew beautiful drawings of places all around Georgia for the art in the calendar. Don't miss out and get one today!
Students, remember to check your school email. You may have a message from the yearbook staff! Speaking of yearbooks, purchase yours today for $85. You can order online or see Mrs. Monica Smith in room 626.
PREVIOUS POSTS ~
Attention students: The first Ethics Bowl meeting will be in Coach McCarty's classroom 145 after school at 3:30 on Tuesday, November 30.
AFTER SCHOOL ~

Today, the Swim Team travels to Harris County! Make the drive and support our Central Lions!
DUES & DEADLINES ~
Senior Fees: $150 until December 16. Cash or check, see Linda Morris in the Media Center.
Yearbook: $75 . Cash, check, or online with PayPal. See Monica Smith in the yearbook room.
Junior Dues: $100 until Thanksgiving break. Cash or check, see Coach Perryman, Ms. Wooten or Ms. Smith.
It's a great day to be a Central Lion and let's remember to have a bright, blissful and beautiful day!