Monday, February 22, 2021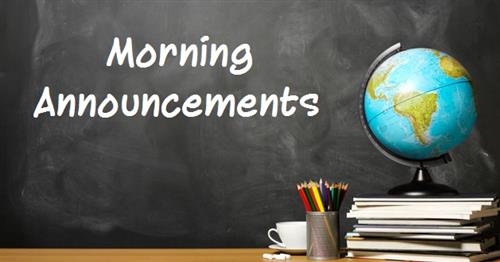 ---
Central High School
Announcements for Monday, February 22, 2021
The mission of Central High School is to provide all students with educational opportunities through a challenging curriculum which meets the needs of a diverse school community.
Teachers -- Please check dress code, have students toss all food and drinks from outside vendors, spit out gum and remove all head gear. Put cell phones away as you enter class. Students may NOT wear earbuds or headphones in the hallways.
Attention Class of 2022, this is the final week to purchase senior jerseys. Check the school website, social media, or see the Balfour representative this Wednesday and Thursday outside the cafeteria to order YOURS!
SHOUT OUT ~
Today's big shout out goes Hannah and Karley Bowen for their random act of kindness. Hannah and Karley created special Valentine's bags for fellow students and their teachers. This was a truly thoughtful and kind gesture on their part. Thank you ladies!! Be sure to stop by the Media Center for your free tee shirt and photo!
NEW NEWS ~
Art I students have created zines to celebrate and honor the achievements of African Americans in our country. A zine is a tiny publication that allows artists to share their art with others. They look like tiny magazines with original illustrations inside! These students will be hiding their zines around the school for anyone to pick up, keep and enjoy! Make sure to be on the lookout and grab some awesome art if you find it!
The football banquet will be held this Thursday at Old Camp United Methodist Church. The banquet will start promptly at 7:00 p.m. Only 2 guests per player are allowed to attend and you must have a mask to enter. Please see Coach Smiley with any questions.
PREVIOUS POSTS ~
Attention Class of 2022: Senior jerseys are on sale NOW. Online orders will be taken through February 26 through Balfour. A representative will be on campus during lunch February 25 and 26, and February 25 from 4:00-7:00 p.m. in the cafeteria. Jerseys will be delivered in time for senior pictures. Don't delay, order today!
AFTER SCHOOL ~
Tuesday, tennis travels to Callaway, soccer plays at Adairsville, JV baseball at Carrollton and varsity baseball plays at home against Bowdon. It will be a busy Tuesday for our Central athletes, come out and support our Lions!
DUES & DEADLINES ~
Yearbook Sales: $90; see Ms. Monica Smith. Final date to purchase is Friday, April 2, 2021.
Senior Fees: $200; cash only, see Linda Morris.
It's a great day to be a Central Lion and let's remember the three (3) 'Ps"; Patience, Positivity and Peace!