Thursday, November 17, 2022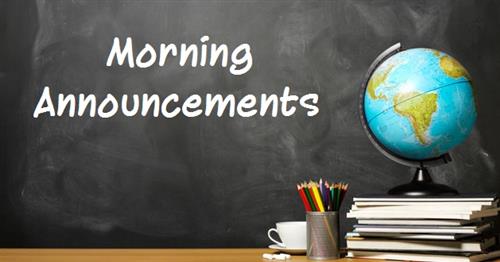 ---
Central High School
Announcements for Thursday, November 17, 2022
The mission of Central High School is to provide all students with educational opportunities through a challenging curriculum which meets the needs of a diverse school community.
Teachers -- Please check dress code, have students toss all food and drinks from outside vendors, spit out gum and remove all headgear. Put cell phones away as you enter class. Students may NOT wear earbuds, headphones, or hats in school.
SHOUT OUT ~
Today's super big shout out goes to the Lady Lions Flag Football Team! The ladies finished up the season by celebrating senior night and wrapping the number 2 seed for their area in the state playoffs. The night was started off by recognizing seniors Chelsea Jeffers, Janea Adams, Macie Williams, Kayli Miller, Mikya Long, and Lucy Wilkinson. This was followed by Nyah Lovett singing the National Anthem before two strong defensive games by the Lady Lions. Game one was a win over Villa Rica 14-0 and game two was a 14-6 victory over the Carrollton Trojans knocking them out of the playoffs. The Lady Lions would like to give a special thanks to Coach Hart for running the scoreboard and Cam Cochran and Isaiah McMichael for helping with the down marker on the sideline. And a super big thanks to the students that made it out in the cold weather to support your classmates and the Flag Football team.
NEW NEWS ~
Everyone is welcome at FCA tomorrow at 7:45 a.m. to hear sweet music played by our talented students and listen to one of our amazing football coaches, Kelby Watts. We hope to see everyone there. #notjustforathletes
AFTER SCHOOL ~
Tomorrow the swim team heads to Harris County and over the weekend wrestling competes in the Buford Invitational. Check out the school calendar for more events and details over the holidays.
DUES & DEADLINES
Senior Fees $150 cash or check made payable to Central High School. See Linda Morris to pay fees.
Yearbooks: Order online at http://yearbookordercenter.com/ at the cost of $90.
Prom: $100 Juniors, $70 Seniors, cash or check, see Ms. Perryman, Ms. Wooten, or Ms. Abbie Smith.
It's a great day to be a Central Lion and let's remember to SLAY THE DAY!!