Wednesday, February 10, 2021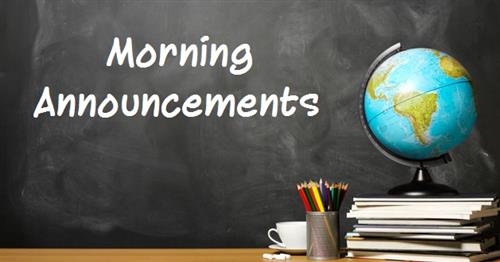 ---
Central High School
Announcements for Wednesday, February 10, 2021
The mission of Central High School is to provide all students with educational opportunities through a challenging curriculum which meets the needs of a diverse school community.
Teachers -- Please check dress code, have students toss all food and drinks from outside vendors, spit out gum and remove all head gear. Put cell phones away as you enter class. Students may NOT wear earbuds or headphones in the hallways.
Attention Seniors: Friday is the final day to pay senior fees at $175 for graduation. See Linda Morris in the Media Center as soon as possible.
SHOUT OUT ~
Today's big shout out goes to the following girls who competed in Ms. Leonine last weekend. Congratulations to 2nd runner-up Lilly Williams, 1st Runner-up Alexis Woods, and Miss Leonine Michaela Blakeney.
Our 2nd shout out goes to Koran Taylor for being caught in a random act of kindness. Koran found a pair of AirPods and turned them into the main office. Please stop by the Media Center for your free tee shirt and a photo!
Our 3rd shout out goes to the FFA students who have taken time to brighten our day with special FFA facts and treats! Thank you Ms. Dysart and Mr. Clarke and FFA!
NEW NEWS ~
FFA is hosting a chapter meeting tomorrow in celebration of National FFA Week in Mrs. Dysart's room on the Ag hallway. Snacks and drinks will be provided, hope to see you there!
This is a reminder that the Sources of Strength team will be meeting in the art room at 3:30 this afternoon to create posters for the self-care/Valentine's Day campaign this week. Peer leaders and anyone else who is interested in the program is welcome. Sources of Strength would love to meet you!
The PASS program is running a sock and underwear campaign this week and is asking for donations in various sizes! Bring your donations to the Guidance Office! Thank you!
PREVIOUS POSTS ~
Attention Class of 2022: Senior jerseys are on sale NOW. Online orders will be taken through February 26 through Balfour. A representative will be on campus during lunch February 25 and 26, and February 25 from 4:00-7:00 p.m. in the cafeteria. Jerseys will be delivered in time for senior pictures. Don't delay, order today!
AFTER SCHOOL ~
Baseball scrimmages at Villa Rica at 5:30 p.m.! Make the short drive and support our Central Lions!
DUES & DEADLINES ~
Yearbook Sales: $90; see Ms. Monica Smith.
Senior Fees: $175; cash only, see Linda Morris. Fees increase to $200 on February 13!
It's a great day to be a Central Lion and let's remember the three (3) 'Ps"; Patience, Positivity and Peace!