Tuesday, November 16, 2021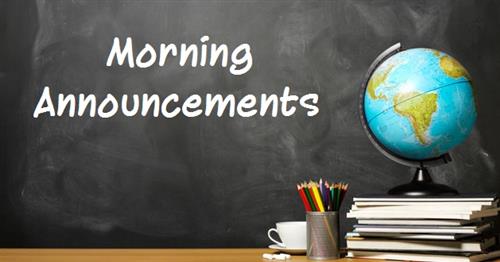 ---
Central High School
Announcements for Tuesday, November 16, 2021
The mission of Central High School is to provide all students with educational opportunities through a challenging curriculum which meets the needs of a diverse school community.
Teachers -- Please check dress code, have students toss all food and drinks from outside vendors, spit out gum and remove all headgear. Put cell phones away as you enter class. Students may NOT wear earbuds, headphones, or hats in school.
SHOUT OUT ~
Today's big shout out goes to the Central High School Flag Football Team for defeating #3 Riverwood Raiders 28-21. For the night Kamry Mcewen accounted for 3 rushing touchdowns and 1 passing touchdown. Lucy Wilkerson had 2 touchdowns and Elissa Robinson had the game winning 47 yard touchdown reception. Defense was outstanding all night with Neziah Barge and Graci McQurter accounting for 4 interceptions. Come out Wednesday night for our last regular season game.
NEW NEWS ~
The next Key Club meeting will be November 17 at 7:50 a.m. or 3:35 p.m. in Ms. Bowen's room 732. All Key Club members should plan to attend one of the meetings.
The band just received a new shipment of Country Meat Snack Sticks! See any Symphonic Band Member or Mr. Ruby during non-instructional time to purchase yours today!
Attention all students! Are you interested in spreading mental health awareness? Join S.T.A.N.D. Club this Thursday at 7:45 a.m. in the media center to help make thank you gifts for the medical workers as well as be a part of the upcoming Carrollton Christmas Parade! You do not have to be a club member to attend, we would love to see you there! That is 7:45 a.m. on Thursday in the media center!
Attention students: The first Ethics Bowl meeting will be in Coach McCarty's classroom 145 after school at 3:30 on Tuesday, November 30.
Attention all CHS buddy club members. We will have a mandatory meeting on Thursday November 18 at 8 a.m. in room 310. We will be finalizing to help with the Special Olympics on November 30. If you cannot be there you must see Mrs. Hanson in order to help. Thank you.
Tonight is Spirit Night at Chipotle! Come out and support our Central Lions swim team from 4-6 p.m.
PREVIOUS POSTS ~
FFA, Interact Club, Art Club, Beta Club, Key Club and FBLA are collecting toiletries, hand warmers, games, cards, puzzles, baseballs and gloves, water flavoring packets, and more. Check out the flyers posted throughout school and bring your items to your club sponsor or the agriculture classroom in the 3-story building.
AFTER SCHOOL ~
Basketball travels to Bowdon for a scrimmage. Make the drive and support our Central Liions!
DUES & DEADLINES ~
Senior Fees: $150 until December 16. Cash or check, see Linda Morris in the Media Center.
Yearbook: $75 . Cash, check, or online with PayPal. See Monica Smith in the yearbook room.
Junior Dues: $100 until Thanksgiving break. Cash or check, see Coach Perryman, Ms. Wooten or Ms. Smith.
It's a great day to be a Central Lion and let's remember to be the three (3) 'As"; Attentive, Aspiring and Amazing!