Friday, January 22, 2021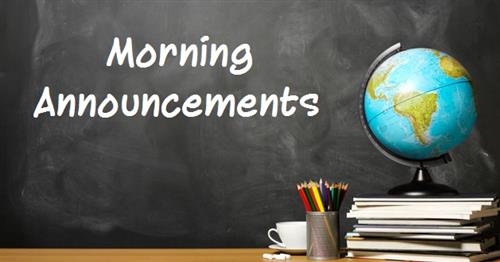 ---
Central High School
Announcements for Friday, January 22, 2021
The mission of Central High School is to provide all students with educational opportunities through a challenging curriculum which meets the needs of a diverse school community.
Teachers -- Please check dress code, have students toss all food and drinks from outside vendors, spit out gum and remove all head gear. Put cell phones away as you enter class. Students may NOT wear earbuds or headphones in the hallways.
Balfour is on campus today during all lunch periods. Class of 2022 senior jerseys, rings, and jackets may be ordered.
NEW NEWS ~
If you would like to be on the yearbook staff next year, now is the time to submit an application! Application information is posted outside each English teacher's classroom door. Please see Mrs. Monica Smith if you have any questions.
Central High School is producing the Broadway version of Disney's The Little Mermaid this semester! Auditions are February 5 and are open to all students. Sign-up information and audition materials can be found in the chorus room.
Attention Class of 2022: Senior jerseys are on sale NOW. Online orders will be taken through February 26 through Balfour. A representative will be on campus during lunch January 21 and 22, and February 25 and 26, and February 25 from 4:00-7:00 a.m. in the front atrium. Jerseys will be delivered in time for senior pictures. Don't delay, order today!
PREVIOUS POSTS ~
The Super Smash Brothers video game tournament has been rescheduled for Tuesday, January 26, after school in the chorus room. If you previously registered for the tournament, please make plans to attend on the 26.
Calling all actors and actresses! Literary monologue auditions are being held on Friday, January 29, after school in the chorus room. Those who are interested should prepare a one minute monologue for their audition. You can sign up for an audition time outside the chorus room.
Chorus is accepting shoe donations through February! Bring your shoes in today!
AFTER SCHOOL ~
Basketball travels to Ridgeland and wrestlers travel to duals at state. Basketball is back in action tomorrow in Heard County. Come out and support our Central Lions!!
DUES & DEADLINES ~
Yearbook Sales: $90; see Ms. Monica Smith.
Senior Fees: $175; cash only, see Linda Morris. Fees increase to $200 on February 13!
It's a great day to be a Central Lion and let's remember the three (3) 'Ps"; Patience, Positivity and Peace!