Thursday, January 13, 2022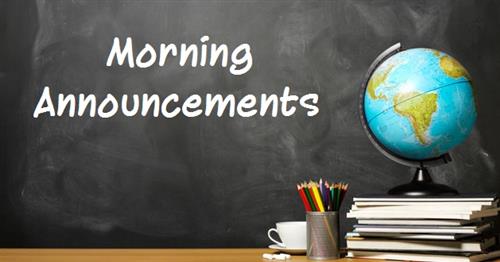 ---
Central High School
Announcements for Thursday, January 13, 2022
The mission of Central High School is to provide all students with educational opportunities through a challenging curriculum which meets the needs of a diverse school community.
Teachers -- Please check dress code, have students toss all food and drinks from outside vendors, spit out gum and remove all headgear. Put cell phones away as you enter class. Students may NOT wear earbuds, headphones, or hats in school.
SHOUT OUT ~
Today's super big shout out goes to the Central High School Swim Team! We have a new school record in the 200 IM with Gabriella Baldassarri, along with two (2) top three (3) finishes for Spencer Knoll. Our last home meet will be at Lakeshore Pool on Wednesday for Senior Night. Plan to come out and support our Central Lions!
NEW NEWS ~
Attention Students and Teachers: Capturing Kids Hearts invites you to participate in an immersion art experience. Based on artwork created by Japanese artist Yayoi Kusama, the viewer becomes part of the art itself. Outside the cafeteria is a solid white wall, we invite you to add a dot and create the art!
If you are in need of a Sadie Hawkins dress please contact Mrs. Haas in room 704 to make an appointment to look at dresses!
Junior Dues for Prom increase after tomorrow. See Ms. Perryman, Ms. Wooten, or Ms. Smith with payment or questions.
PREVIOUS POSTS ~
The Central High School Symphonic Band is hosting a dessert concert next Tuesday at 7:00 p.m. at the Performing Arts Center. Your $5.00 ticket can be purchased in the main office or at the door. Doors open at 6:00 p.m.
The Sadie Hawkins dance will be held on Saturday, February 5. You can purchase tickets for $10 on the GoFan app! If you are bringing a date that attends a different high school, you will need to get a date form from Mrs. Martin, Mrs. Morris in the Media Center, or the school website. Forms are due Monday, January 31.
Students can sign up to take the ASVAB in the Guidance Office through January 18. The ASVAB will be given January 31 at 8:30 a.m. in room 409. There is no cost for this test. Please contact Ms. Zerr with any questions.
AFTER SCHOOL ~
Tomorrow, swim travels to Calhoun and basketball plays Heritage at home. Over the weekend, wrestling dual preliminaries take place and basketball plays Callaway at home. Check the school calendar for details.
DUES & DEADLINES ~
Senior Fees: $180 until February 11. Cash ONLY, see Linda Morris in the Media Center.
Yearbook: $85 . Cash, check, or online with PayPal. See Monica Smith in the yearbook room.
Junior Dues: $120. Prices increase on Monday, January 17! Cash or check, see Coach Perryman, Ms. Wooten or Ms. Smith.
It's a great day to be a Central Lion and let's remember to be kind to each other.