Thursday, April 29, 2021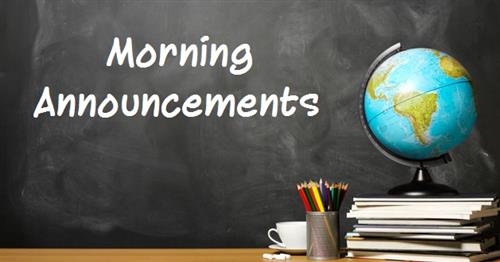 ---
Central High School
Announcements for Thursday, April 29, 2021
The mission of Central High School is to provide all students with educational opportunities through a challenging curriculum which meets the needs of a diverse school community.
Teachers -- Please check dress code, have students toss all food and drinks from outside vendors, spit out gum and remove all headgear. Put cell phones away as you enter class. Students may NOT wear earbuds or headphones in the hallways.
Senior walk has been rescheduled for Friday, May 21 at 4:30 p.m. in the stadium. There will NOT be a senior walk at the Prom venue.
All Prom forms are due no later than May 7!! Late forms will not be accepted.
SHOUT OUT ~
Today's big shout out goes to Tyler Cook and Tinley Nelson for qualifying for the state golf tournament! Congratulations!
NEW NEWS ~
Balfour will be on campus Friday, May 7 for the final time this year. If you would like to order a letter jacket, ring, or senior items, stop by their table outside the lunchroom.
FCA is in the old gym this Friday at 7:45 a.m. Join us for fellowship and to hear the Word from a great speaker! We only have a few more meetings, so you don't want to miss out! 7:45 a.m., Friday, old gym, be there or be square, see you there!
AFTER SCHOOL ~
Next week the Cross Country interest meeting is Thursday at 6:00 p.m. in the cafeteria. Contact Coach Horsley in room 719 for more information.
DUES & DEADLINES ~
Prom Fees: Juniors $165, Seniors $100 (for students who did not pay as a Junior). See Ms. Wooten or Ms. Perryman. Date forms and COVID waiver forms are online and available in the classroom.
It's a great day to be a Central Lion and let's remember the three (3) 'Ps"; Patience, Positivity and Peace!