Friday, October 22, 2021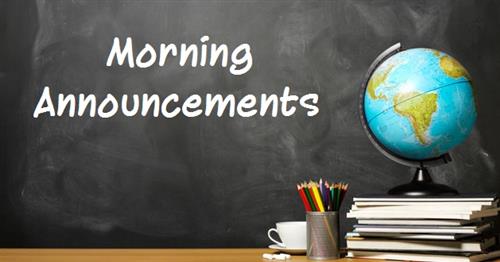 ---
Central High School
Announcements for Friday, October 22, 2021
The mission of Central High School is to provide all students with educational opportunities through a challenging curriculum which meets the needs of a diverse school community.
Teachers -- Please check dress code, have students toss all food and drinks from outside vendors, spit out gum and remove all headgear. Put cell phones away as you enter class. Students may NOT wear earbuds, headphones, or hats in school.
Today's Bullying Prevention Week quote is from Yasmin Mogahed, "Resilience means you experience, you feel, you fail, you hurt. You fall. But you keep going."
SHOUT OUT ~
Today's big shout out goes to the Central High School Volleyball Team for beating New Hampstead in the first round of state playoffs Wednesday night. The ladies are now in the Sweet 16! Come out Saturday and support our Lions as they compete for the Elite 8 against Northwest Whitfield!
Our second shout out goes to Jesus Garcia for being caught in a random act of kindness. Jesus assisted a student in a medical emergency in class. Thanks for jumping in to save the day! Please stop by the Media Center for your free tee shirt and picture.
Our final shout out of the day goes to our very own Lee Burson! Congratulations on being named runner up Carroll County Teacher of the Year.
NEW NEWS ~
Attention all Buddy Club members or students needing community service hours! If you would like to volunteer time and help with the Carrollton Parks and Recreation Department Fall Festival, see Ms. Hanson. The festival is October 27 from 6:00 to 9:00 p.m.
The Interact Club is collecting cash donations for their polio drive. The 1st period that collects the most will receive a very special breakfast. Interact Club members will deliver envelopes to first period teachers for collecting donations. The donation drive is through Friday, October 29.
There will be a gymnastics informational meeting on Monday, November 1 at 5:30 p.m. in the cafeteria. Interested girls should plan to attend, all are welcome!
Students, if you are in 10th-12th grade, have a 3.75 or higher GPA and you are NOT already a member of Beta Club, check your email! Invitations to join Beta Club went out to eligible students via student email accounts. Printed copies of the invitations can be picked up anytime from the folders outside room 140. Just stop by and look in your grade's folder for the letter with your name on it.
PREVIOUS POSTS ~
Men's Basketball tryouts are Monday, October 25 at Tabernacle Baptist Church 4:15- 6:15 p.m. Tryouts are closed. An updated physical and good academic standings are required. No physical - No Tryout. Limited Spots Available. Serious inquiries only. Please sign-up in the front office to be considered for tryouts. Football players who want to try out will also need to sign up so we can schedule an additional tryout for when the season is complete. See Coach Edwards with questions.
DUES & DEADLINES ~

Senior Fees: $150 until December 16. Cash or check, see Linda Morris in the Media Center.
Yearbook: $75 . Cash, check, or online with PayPal. See Monica Smith in the yearbook room.
It's a great day to be a Central Lion and let's remember the three (3) 'Ps"; Patience, Positivity and Peace!