Monday, November 15, 2021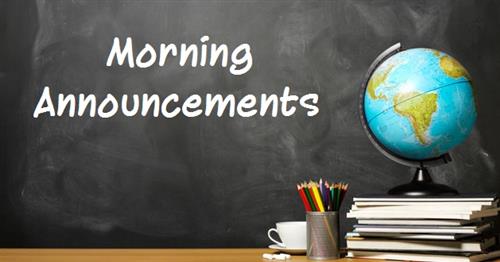 ---
Central High School
Announcements for Monday, November 15, 2021
The mission of Central High School is to provide all students with educational opportunities through a challenging curriculum which meets the needs of a diverse school community.
Teachers -- Please check dress code, have students toss all food and drinks from outside vendors, spit out gum and remove all headgear. Put cell phones away as you enter class. Students may NOT wear earbuds, headphones, or hats in school.
SHOUT OUT ~
Today's big shout out goes to the following students for advancing to state level interviews for the Governor's Honors Program! Congratulations to
Ty Martin - Engineering
Cayden Wilson - Engineering
Darby Burns - Spanish
Anna Stober - Visual Arts
Laney Duffey - Communicative Arts
Brock McWhorter - Mathematics
Addison Denney - Mathematics
Sarah Dutton - Science
Natalie Proskell - Visual Arts
Jesus Garduno-Ortega - Music
Olivia Vande Kerkhoff - Music
Our second shout out goes to wrestlers Owen Warren and Aaron Sheffield for going undefeated over the weekend. Central wrestlers participated in an opening tournament in Alabama. Congratulations team!
NEW NEWS ~
The next Key Club meeting will be November 17 at 7:50 a.m. or 3:35 p.m. in Ms. Bowen's room 732. All Key Club members should plan to attend one of the meetings.
PREVIOUS POSTS ~
FFA, Interact Club, Art Club, Beta Club, Key Club and FBLA are collecting toiletries, hand warmers, games, cards, puzzles, baseballs and gloves, water flavoring packets, and more. Check out the flyers posted throughout school and bring your items to your club sponsor or the agriculture classroom in the 3-story building.
AFTER SCHOOL ~
Flag football travels to Riverwood High School. Follow the bus and support our Lions!
DUES & DEADLINES ~
Senior Fees: $150 until December 16. Cash or check, see Linda Morris in the Media Center.
Yearbook: $75 . Cash, check, or online with PayPal. See Monica Smith in the yearbook room.
Junior Dues: $100 until Thanksgiving break. Cash or check, see Coach Perryman, Ms. Wooten or Ms. Smith.
It's a great day to be a Central Lion and let's remember to be the three (3) 'As"; Attentive, Aspiring and Amazing!