Friday, February 12, 2021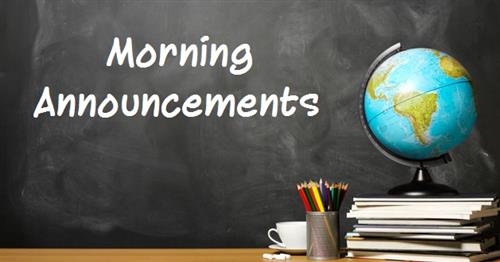 ---
Central High School
Announcements for Friday, February 12, 2021
The mission of Central High School is to provide all students with educational opportunities through a challenging curriculum which meets the needs of a diverse school community.
Teachers -- Please check dress code, have students toss all food and drinks from outside vendors, spit out gum and remove all head gear. Put cell phones away as you enter class. Students may NOT wear earbuds or headphones in the hallways.
Attention Seniors: Today is the final day to pay senior fees at $175 for graduation. See Linda Morris in the Media Center as soon as possible.
SHOUT OUT ~
Today's big shout out goes to Central wrestlers Owen Warren, Aaron Sheffield, and Ethan Askin who are all advancing with 1st round wins in the state tournament.
NEW NEWS ~
The PASS program is running a sock and underwear campaign this week and is asking for donations in various sizes! Bring your donations to the Guidance Office! Thank you!
PREVIOUS POSTS ~
Attention Class of 2022: Senior jerseys are on sale NOW. Online orders will be taken through February 26 through Balfour. A representative will be on campus during lunch February 25 and 26, and February 25 from 4:00-7:00 p.m. in the cafeteria. Jerseys will be delivered in time for senior pictures. Don't delay, order today!
AFTER SCHOOL ~
Make plans to be on campus Monday for the 1:00 p.m. for the Cheer Team send-off to state! Men's soccer travels to Sprayberry High School and the ladies are home against Douglas County. Baseball and soccer play next week during our winter break, be sure to check the school website calendar and come out to support our Central Lions!
DUES & DEADLINES ~
Yearbook Sales: $90; see Ms. Monica Smith. Final date to purchase is Friday, April 2, 2021.
Senior Fees: $175; cash only, see Linda Morris. Fees increase to $200 tomorrow!
It's a great day to be a Central Lion and let's remember the three (3) 'Ps"; Patience, Positivity and Peace!