Thursday, September 10, 2020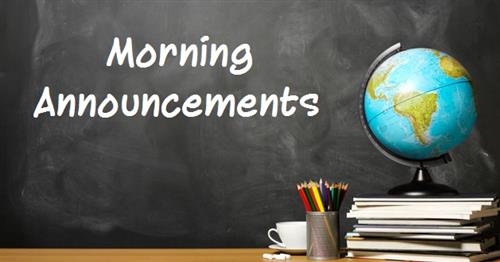 ---
Central High School
Announcements for Thursday, September 10, 2020
The mission of Central High School is to provide all students with educational opportunities through a challenging curriculum which meets the needs of a diverse school community.
Teachers -- Please check dress code, have students toss all food and drinks from outside vendors, spit out gum and remove all head gear. Put cell phones away as you enter class. Students may NOT wear earbuds or headphones in the hallways.
Student vehicles parking on campus without a visible parking permit will be towed beginning TOMORROW. Purchase your permit in the main office.
Teachers, we will have advisement during 3rd period today. Please check your email from Ms. North regarding today's lesson.
SHOUT OUT
Today's big shout goes to the Lady Lions JV Softball Team for winning both games yesterday! Way to go ladies!
NEW NEWS
Attention students, FCA is back! Our first meeting is tomorrow morning at 7:45 a.m. in the upper bleacher section of the Walker gym. If you need more info or have any questions see Mrs. Spayde in room 628.
If anyone is interested in joining the Central High School Bass Fishing Team, come to the short informational meeting before school Monday, September 14 at 7:50 a.m. in room 414. If you can't make it that morning there will also be a meeting after school in the same room 414. If you can't make either meeting, please come see Coach Nix to get the information.
PREVIOUS POSTS
Homecoming is right around the corner! Check out the online tee shirt store and purchase your class homecoming shirt TODAY! Visit https://ozierapparel.com/central_homecoming/shop/home. If you have any questions, see Ms. Martin or your student council representative.
Students and teachers, Central High School is hosting a blood drive September 17 during the school day from 9:00-2:00 p.m., for students and staff only. In order to give, you must be 16 or older and sign up with Ms. Startup. All donors receive a free tee shirt! Stop by the clinic and signup!
AFTER SCHOOL
Softball and volleyball play at home tonight and the Lions take on Temple in Lion Valley tomorrow night. Tickets are almost gone so get yours today! Dream Team students need to move their cars tomorrow by 4:30 p.m. as the lot is for reserved parking purchases during football season. Masks are required in the student section during the football game and the theme is outer space!
DUES & DEADLINES
Yearbook Sales: $65; see Ms. Monica Smith.
Senior Fees: $125; see Linda Morris.
Junior Dues: $100; see Ms. Perryman.
It's a great day to be a Central Lion and let's remember the three (3) 'Ps"; Patience, Positivity and Peace!