Friday, October 1, 2021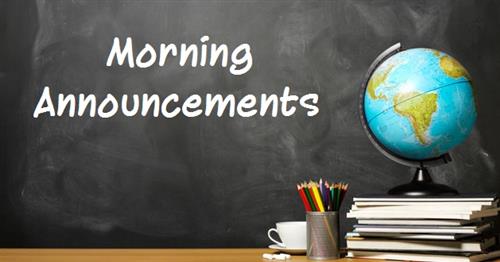 ---
Central High School
Announcements for Friday, October 1, 2021
The mission of Central High School is to provide all students with educational opportunities through a challenging curriculum which meets the needs of a diverse school community.
Teachers -- Please check dress code, have students toss all food and drinks from outside vendors, spit out gum and remove all headgear. Put cell phones away as you enter class. Students may NOT wear earbuds, headphones, or hats in school.
Please be aware that pajamas are considered out-of-dress code; this includes pajama bottoms. Please be sure you are following the Carroll County School Systems dress code policies.
Attention Homecoming Court and Sweethearts: TODAY is the deadline for turning in all biography forms and parade paperwork.
Senior fees for graduation increase to $150 after TODAY!
SHOUT OUT ~
Today's big shout out goes to members of the Buddy Club who were selected as officers for the 2021-2022 school year.
President - Jasmine Martin
Vice President - Addison Denney
Secretary - Elissa Robison
Treasurer - Morgan Smith
Photographer - Megan Cook
Social Media Specialist - Jaidyn Kierbow
Our second big shout out goes to the fabulous custodial staff that takes care of our campus. Thank you to Ms. Denise, Ms. Amber, Mr. Tom, and Mr. Michael.
Our final shout out goes to the Lady Lions Softball Team for bringing home a huge region win last night. The Lions beat Heritage 5-2. It was an overall awesome team performance for the Lions. The ladies are now 24-1 on the season. Great job!
NEW NEWS ~
Today's Hispanic Heritage fact is: Argentina became the first country to use fingerprinting as a form of identification for criminal records.
Central High School is producing Shrek the Musical in Spring of 2022! Audition materials are available in the chorus room. Auditions will be held October 21, 22, and 25, and you can sign up at the Chorus room. See Ms. Phillips if you have any questions.
PREVIOUS POSTS ~
Basketball cheerleading tryouts are October 18-21. See Ms. Jordan for details.
AFTER SCHOOL ~
The Lions travel to Northwest Whitfield tonight. Make the drive and support our Central Lions!
DUES & DEADLINES ~
Senior Fees: $150 until December 16. Cash or check, see Linda Morris in the Media Center.
Yearbook: $75 until September 30. Cash, check, or online with PayPal. See Monica Smith.
Senior & Underclassman Photo Makeup: Tuesday, October 19. Use the link to sign up for your time. https://forms.gle/tnRvFeH3s9QkwkMN8
It's a great day to be a Central Lion and let's remember the three (3) 'Ps"; Patience, Positivity and Peace!