Tuesday, January 19, 2021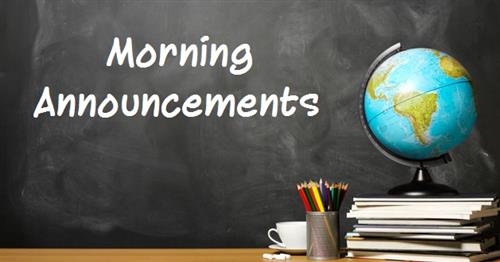 ---
Central High School
Announcements for Tuesday, January 19, 2021
The mission of Central High School is to provide all students with educational opportunities through a challenging curriculum which meets the needs of a diverse school community.
Teachers -- Please check dress code, have students toss all food and drinks from outside vendors, spit out gum and remove all head gear. Put cell phones away as you enter class. Students may NOT wear earbuds or headphones in the hallways.
SHOUT OUT ~
Today's big shout out goes to the Central High School Wrestling Team for coming in Region Runner-Up! Great job men!!
Our second big shout out goes to the Central High Jr. Ag. Mechanics Team for placing 2nd in the Northwest Georgia Area 1 Career Development Event last week. They will advance on to the State Contest in April, 2021. Team members are Jason Dodson, Hunter Hooks, Spencer Barr, and Carson Smith.
NEW NEWS ~
Join FCA this Friday morning at 7:45 a.m. in the wrestling room! Aaron Farley from Old Camp will be there to share some knowledge, as well as your favorite dodgeball game! Come start your Friday morning with friends!
Attention Class of 2022: Senior jerseys are on sale NOW. Online orders will be taken through February 26 through Balfour. A representative will be on campus during lunch January 21 and 22, and February 25 and 26, and February 25 from 4:00-7:00 a.m. in the front atrium. Jerseys will be delivered in time for senior pictures. Don't delay, order today!
PREVIOUS POSTS ~
Students can sign up to take the ASVAB in the Guidance Office through January 29. The ASVAB will be given February 11. Ms. Zerr will send additional information about the exam on February 1st to those who chose to sign up.
The Super Smash Brothers video game tournament has been rescheduled for Tuesday, January 26, after school in the chorus room. If you previously registered for the tournament, please make plans to attend on the 26.
Calling all actors and actresses! Literary monologue auditions are being held on Friday, January 29, after school in the chorus room. Those who are interested should prepare a one minute monologue for their audition. You can sign up for an audition time outside the chorus room.
Chorus is accepting shoe donations through February! Bring your pair in today!
AFTER SCHOOL ~
Symphonic band will host a concert at 7:00 p.m. tonight at the Carroll County Performing Arts Center. Ticket information and live streaming details can be found on the band website. Basketball travels to Southeast Whitfield County today, good luck teams!
DUES & DEADLINES ~
Yearbook Sales: $90; see Ms. Monica Smith.
Senior Fees: $175; cash only, see Linda Morris. Fees increase to $200 on February 13!
It's a great day to be a Central Lion and let's remember the three (3) 'Ps"; Patience, Positivity and Peace!