Monday, May 22, 2023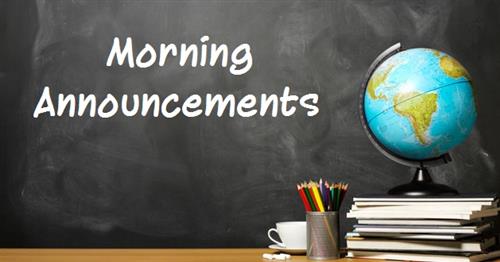 ---
Central High School
Announcements for Monday, May 22, 2023
The mission of Central High School is to provide all students with educational opportunities through a challenging curriculum which meets the needs of a diverse school community.
Teachers -- Please check dress code, have students toss all food and drinks from outside vendors, spit out gum and remove all headgear. Put cell phones away as you enter class. Students may NOT wear earbuds, headphones, pajama bottoms or hats in school.
NEW NEWS ~
Ice cream is on sale in the lunchroom for the remainder of the year. You get 2 for $1.00. Enjoy a good treat for half the price!!
All lost and found items will be donated if not picked up by the last day of school. See Ms. Watkins in Student Services to find your items.
Baccalaureate is this evening at Tabernacle Baptist Church at 7:00 p.m. Graduates arrive by 6:30 p.m. in formal attire with cap, gown and regalia. The event is optional for graduates.
It's a great day to be a Central Lion and let's remember to slay the day away.