Monday, November 14, 2022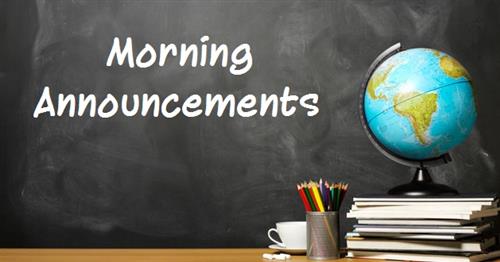 ---
Central High School
Announcements for Monday, November 14, 2022
The mission of Central High School is to provide all students with educational opportunities through a challenging curriculum which meets the needs of a diverse school community.
Teachers -- Please check dress code, have students toss all food and drinks from outside vendors, spit out gum and remove all headgear. Put cell phones away as you enter class. Students may NOT wear earbuds, headphones, or hats in school.
Attention Students: All lost and found items will be disposed of following Thanksgiving break. Stop by Student Services to claim your lost items!
SHOUT OUT ~
Today's big shout out goes to Ethan Browning for being caught in a random act of kindness. Ethan volunteered to bring a wheelchair to the nurse on the track for a student with a medical need. Thank you Ethan! Stop by the Media Center for your free tee shirt and picture!
Our second shout out goes to the Central Lions football team for smashing the Raiders 35-7 Friday night. Devan Powell had 5 touchdowns in the 2nd half to seal the deal. Great job Lions!! The team is on the road this Friday to play in the second-round of state playoffs.
NEW NEWS ~
Reminder: The Magnolias Girls student group will be meeting during their lunch period, today in room 301.
AFTER SCHOOL ~
Tomorrow wrestling travels to Rockmark for duals and Wednesday flag football plays Villa Rica and Carrollton at home.
DUES & DEADLINES
Senior Fees $150 cash or check made payable to Central High School. See Linda Morris to pay fees.
Yearbooks: Order online at http://yearbookordercenter.com/ at the cost of $90.
Prom: $100 Juniors, $70 Seniors, cash or check, see Ms. Perryman, Ms. Wooten, or Ms. Abbie Smith.
It's a great day to be a Central Lion and let's remember to SLAY THE DAY AWAY!!