Friday, April 2, 2021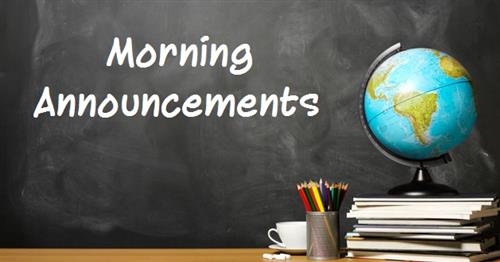 ---
Central High School
Announcements for Friday, April 2, 2021
The mission of Central High School is to provide all students with educational opportunities through a challenging curriculum which meets the needs of a diverse school community.
Teachers -- Please check dress code, have students toss all food and drinks from outside vendors, spit out gum and remove all headgear. Put cell phones away as you enter class. Students may NOT wear earbuds or headphones in the hallways.
Today is the FINAL date to purchase your 2021 yearbook! Go online or see Monica Smith about purchasing your's today!
SHOUT OUT ~
Today's super big shout out goes to the JV girls soccer team for beating Villa Rica 2-1. Goals were scored by Mallory Rose and Kamry McEwen. Congratulations and great job ladies!!
Our second big shout out goes to the boys and girls Track Teams for winning the meet at Bremen. Highlights included Kameron Edge in the high jump, jumping 6'1 for a new personal record, ranking him 6th in the State. MaryBeth Griffin, Aliyah Ayers, Em Jones, Lucy Wilkinson, and Morgan Smith each increased or matched their personal records in the pole vault, securing 5 of the top six (6) spots in the Region. Great job teams!!
NEW NEWS ~
Spring break is next week. Stay safe and practice social distancing and refresh so we have a great final nine weeks of our 2021 school year.
Attention student athletes: Free physical day is Wednesday, April 14, when we return from spring break. If you want to take advantage of getting a free physical, complete the Southern Therapy physical paperwork and have your parents sign the form. Physicals will begin at 5:00 p.m. in the field house. See Coach Smiley, Ms. DeFriese, or Nurse Cooke for your form. See Coach Smiley if you have questions.
Interact Act Club is collecting water and nonperishable items for the Newnan community. Drop off your donations in the front atrium April 12-16. Thank you, in advance, for your support.
Color Guard auditions take place April 19-23 in the old gym. For more information and to register, look for the QR codes posted outside the band room and on the school website.
AFTER SCHOOL ~
Baseball travels to Mt. Pigsah today and to Lafayette Christian tomorrow.
DUES & DEADLINES ~
Yearbook Sales: $90; see Ms. Monica Smith. Final date to purchase is Friday, April 2, 2021.
Senior Fees: $200; cash only, see Linda Morris.
Prom Fees: Juniors $125, Seniors $70 (for students who did not pay as a Junior). See Ms. Wooten or Ms. Perryman. Date forms and COVID waiver forms are online and available in the classroom. Take care of business early!
It's a great day to be a Central Lion and let's remember the three (3) 'Ps"; Patience, Positivity and Peace!