Monday, May 9, 2022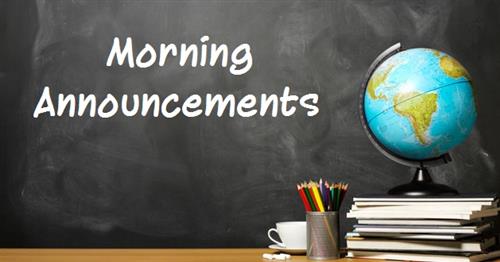 ---
Central High School
Announcements for Monday, May 9, 2022
The mission of Central High School is to provide all students with educational opportunities through a challenging curriculum which meets the needs of a diverse school community.
Teachers -- Please check dress code, have students toss all food and drinks from outside vendors, spit out gum and remove all headgear. Put cell phones away as you enter class. Students may NOT wear earbuds, headphones, or hats in school.
SHOUT OUT ~
Today's big shout out goes to Carson Spears! Congratulations to Chorus Senior, Carson Spears, who won first place in Carrollton Teen Idol! Carson competed this past weekend, and he took home the grand prize of $500. Congratulations!
Our second shout out goes to Nurse Teresa Cooke! Happy Nurses Week!!
NEW NEWS ~
Do you need help studying for the biology end of course test? If so, plan to attend a student study group at 7:45 a.m. in the Media Center. The group will meet each day the week of May 9-13.
Attention Students: Attendance Appeal forms are now available on your Guidance Office Google Classroom. Please complete the following form for any class in which you have 8 or more absences.
Deadline for Appeals - 12th Grade - Friday, May 13, 2022 and 9th-11th Grade - Friday, May 20, 2022. Appeals will not be accepted after the above dates.
There will be a mandatory parent meeting for anyone planning to play boys soccer next school year. A parent and player must attend either May 20 or May 23 at 6:30 p.m. in the Central High School cafeteria.
AFTER SCHOOL ~
Come out to support the Chorus students at the Chorus Spring Concert on Tuesday, May 10! The concert is at 7:00 p.m. at the Performing Arts Center.
It's a great day to be a Central Lion and let's remember, live life to the fullest and focus on the positive.