Wednesday, March 11, 2020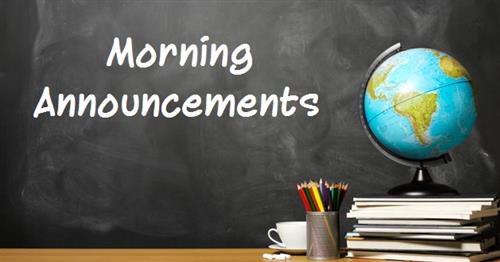 ---
Central High School
Announcements for Wednesday, March 11, 2020
The mission of Central High School is to provide all students with educational opportunities through a challenging curriculum which meets the needs of a diverse school community.
Teachers -- Please check dress code, have students toss all food and drinks from outside vendors, spit out gum and remove all head gear. Put cell phones away as you enter class. Students may NOT wear earbuds or headphones in the hallways.
SHOUT OUT
Today's big shout out goes to the girls soccer team for smashing Hiram last night 6-0. Goals were scored by Emily Ruiz with 3, Jordan Stewart, Audrey Dunne, and Bricely Galvan. Rocio Sierra Lopez had the shutout in goal by saving 2 penalty kicks!
Our second shout out goes to the Varsity Boys and Girls Tennis Teams for serving up Bowdon yesterday. Wins came from Elle Jones, Emily Jones, Anna Cheatwood, Kira Babbs, Laney Duffey, Caleb Williams, Dalton Lewis, Ty Thomas, Blaise Bergiel, Mason Harden, Lance Crawford and Sachal Denney. Great job teams!!
NEW NEWS
Balfour is on campus today and tomorrow during lunch to take orders for the Class of 2021 senior jerseys, letter jackets, rings, and senior announcements. Senior jerseys ordered this week will be delivered in time for 2021 senior pictures. The final day to place an order is Friday, March 13.
Auditions for this year's talent show will be on Tuesday, March 17, after school in the chorus room. Students should be prepared to perform their full act for the audition. See Ms. Phillips if you have any questions or if the audition time does not fit in your schedule.
Tomorrow during all lunches, Sources of Strength will host their kick-off event. Sources of Strength (SOS) encourages peer leadership by empowering students to identify unhealthy behaviors in their peers towards spreading hope, help, and strength by connecting them with an adult in our school. Plan to participate in the activities and learn where you can be a source of strength for yourself and others.
There will be a Pride Club meeting today after school in room 725. Plan to attend!
PREVIOUS POSTS
The talent show will be held on Friday, April 3, during 6th and 7th periods. Tickets are $2 each and will be sold during lunches leading up to the performance.
DUES & DEADLINES
Yearbook Sales: $90; see Ms. Monica Smith.
AFTER SCHOOL
JV soccer is home tonight and tennis travels to Troup County on Thursday for a region match. Make plans to come out and support our Central Lions!
It's a great day to be a Central Lion and let's remember, happiness is found in helping others! How will you make someone's day today?