Thursday, September 22, 2022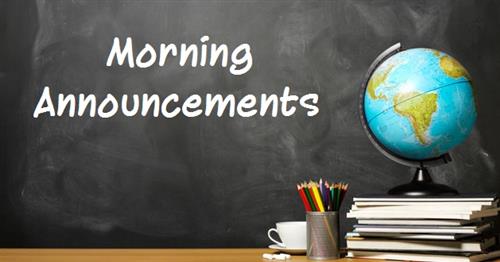 ---
Central High School
Announcements for Thursday, September 22, 2022
The mission of Central High School is to provide all students with educational opportunities through a challenging curriculum which meets the needs of a diverse school community.
Teachers -- Please check dress code, have students toss all food and drinks from outside vendors, spit out gum and remove all headgear. Put cell phones away as you enter class. Students may NOT wear earbuds, headphones, or hats in school.
Hispanic Heritage Month Fact: Ellen Ochoa was the first Latina astronaut to be in space. In 1993, she brought her flute to play on the nine-day mission aboard the Space Shuttle Discovery.
SHOUT OUT ~
Today's big shout out goes to the new Buddy Club officers! Congratulations to co-presidents - Addison Denney and Jaidyn Kierbow, Vice president - Elissa Robison, Secretary - Darby Burns, Treasurer - Allison Haney, and Photographer - Harley Stroud.
NEW NEWS ~
Scholastic Images will be on campus today outside the cafeteria. Stop by and ask questions about letter jackets and senior items.
Are you interested in biology, chemistry, physics, environmental, criminal, or computer science? Plan to attend the Science Olympiad Team interest meeting scheduled for Thursday, September 29 at 4:00 p.m. in room 618. Look for information and a QR code outside of your science teachers classroom to scan for practice and meeting updates.
FCA will meet in the wrestling room in the new gym Friday morning beginning at 7:30. Please come for music, fellowship, and fun. Everyone is welcome!
It is that time of year again! If you are interested in joining the swim team, sign up with Coach Mount outside room 406 this week. The parent meeting will be in the cafeteria on Monday the September 26 at 6:00 p.m.
Students in the 11th grade can now sign up for the PSAT/NMSQT. The cost is $20; fee waivers are available. Sign up in the Guidance Office through October 6. The PSAT/NMSQT will be given at CHS on October 25 in the Old Gym classroom. This opportunity allows juniors to prepare for the SAT and to enter to be a part of the National Merit Scholarship Program. There are only 20 spots available and sign up is first come, first serve.
Anyone interested in joining the wrestling team this season needs to attend a mandatory parent meeting on Thursday, September 29, at 6:00 p.m. in the cafeteria. Both parents and student-athletes are expected at this meeting. If you have any questions or cannot attend the meeting, please see Coach Knight as soon as possible.
Varsity basketball cheerleading tryouts will be held September 27-29 after school from 3:45-4:30 in the cafeteria. Physical forms must be on file no later than September 26 if you intend to try out. See Coach Jordan in 403 for questions and to sign up.
AFTER SCHOOL ~
Softball plays at Sonoraville and Central Middle School football plays Temple in Lion Valley after school. Come out and support our Lions!
DUES & DEADLINES
Senior Fees $125 cash or check made payable to Central High School, see Linda Morris. Fees increase October 8.
Yearbooks: Order online at http://yearbookordercenter.com/ at the cost of $70 until September 30. The cost increases to $80 on October 1.
It's a great day to be a Central Lion and let's remember to slay the day away!