Thursday, October 7, 2021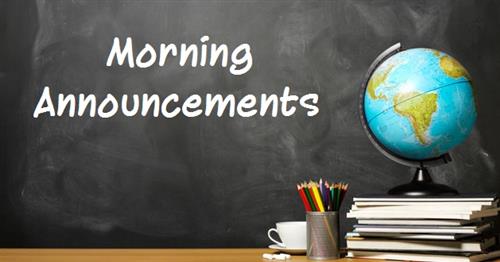 ---
Central High School
Announcements for Thursday, October 7, 2021
The mission of Central High School is to provide all students with educational opportunities through a challenging curriculum which meets the needs of a diverse school community.
Teachers -- Please check dress code, have students toss all food and drinks from outside vendors, spit out gum and remove all headgear. Put cell phones away as you enter class. Students may NOT wear earbuds, headphones, or hats in school.
SHOUT OUT ~
Today's big shout out goes to everyone who helped organize and celebrate homecoming this week!
NEW NEWS ~
Today's Hispanic Heritage facts are: The salt beds in Bolivia contain the largest deposits of salt on the planet. The largest deposit of lithium is found underneath all that salt. Fly over the Naca Desert in southern Peru and you will see a bird, a monkey, a killer whale, and a hummingbird below. There is no zoo amid the landscape; they are the mysterious Nazca lines.
PREVIOUS POSTS ~
Central High School is producing Shrek the Musical in Spring of 2022! Audition materials are available in the chorus room. Auditions will be held October 21, 22, and 25, and you can sign up at the Chorus room. See Ms. Phillips if you have any questions.
Basketball cheerleading tryouts are October 18-21. See Ms. Jordan for details.
Men's Basketball tryouts are Monday, October 25 at Tabernacle Baptist Church 4:15- 6:15 p.m. Tryouts are closed. An updated physical and good academic standings are required. No physical - No Tryout. Limited Spots Available. Serious inquiries only. Please sign-up in the front office to be considered for tryouts. Football players who want to try out will also need to sign up so we can schedule an additional tryout for when the season is complete. See Coach Edwards with questions.
AFTER SCHOOL ~
Tonight softball plays at home against Pickens County. Softball will recognize seniors before the game, so plan to come out and show your support for our fabulous senior softball players!
The Central Lions football team plays Heritage at home tomorrow night! Come out and enjoy our homecoming celebration!
DUES & DEADLINES ~

Senior Fees: $150 until December 16. Cash or check, see Linda Morris in the Media Center.
Yearbook: $75 . Cash, check, or online with PayPal. See Monica Smith in the yearbook room.
Senior & Underclassman Photo Makeup: Tuesday, October 19. Use the link to sign up for your time. https://forms.gle/tnRvFeH3s9QkwkMN8
It's a great day to be a Central Lion and let's remember the three (3) 'Ps"; Patience, Positivity and Peace!