Wednesday, November 17, 2021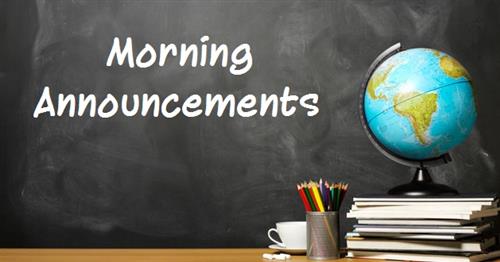 ---
Central High School
Announcements for Wednesday, November 17, 2021
The mission of Central High School is to provide all students with educational opportunities through a challenging curriculum which meets the needs of a diverse school community.
Teachers -- Please check dress code, have students toss all food and drinks from outside vendors, spit out gum and remove all headgear. Put cell phones away as you enter class. Students may NOT wear earbuds, headphones, or hats in school.
Attention Students: If you need your Certificate of Enrollment or your Alcohol Drug Awareness Program (ADAP) card, you must pick it up by Friday of this week. The school will be closed and paperwork will not be available for pickup until we return from Thanksgiving break.
SHOUT OUT ~
Today's first big shout out goes to the newly elected Beta Club officers. Congratulations to,
President Owen Warren
Vice President Jesus Ortega
Treasurer Justice Jones
Secretaries Addison Denney and Elissa Robinson
Social Media/PR Jaidyn Kierbow
Our second shout out goes to the following students who were selected by faculty as 2022 Outstanding Seniors.
Michaela Blakeney Jackson Burns
Charlee Causey Jackson Gordon
Kiley Godbee Caleb Griffis
Sara Jennings Stephen Moye
Cadie Kilgore Gia Perez
Jasmine Martin Daniel Phillips
Azariah McClure Clint Rainwater
Ashlee Peek Aaron Sheffield
Grace Yoder Will Smith
NEW NEWS ~
If you missed this morning's Key Club meeting, plan to attend in Ms. Bowen's room 732 this afternoon.
Students, remember to check your school email. You may have a message from the yearbook staff! Speaking of yearbooks, purchase yours today for $85. You can order online or see Mrs. Monica Smith in room 626.
FCA's November gathering is THIS WEEK! Alex Stewart from First Baptist Franklin will be speaking to us, and we will have worship and breakfast to share! We will meet in the TLC this week, room 412, at the end of the math hallway. Can't wait to see y'all there!
The band just received a new shipment of Country Meat Snack Sticks! See any Symphonic Band Member or Mr. Ruby during non-instructional time to purchase yours today!
Attention all students! Are you interested in spreading mental health awareness? Join S.T.A.N.D. Club tomorrow morning at 7:45 a.m. in the media center to help make thank you gifts for the medical workers as well as be a part of the upcoming Carrollton Christmas Parade! You do not have to be a club member to attend, we would love to see you there! That is 7:45 a.m. on Thursday in the media center!
Attention students: The first Ethics Bowl meeting will be in Coach McCarty's classroom 145 after school at 3:30 on Tuesday, November 30.
Attention all CHS buddy club members. We will have a mandatory meeting tomorrow morning at 8:00 a.m. in room 310. We will be finalizing to help with the Special Olympics on November 30. If you cannot be there you must see Mrs. Hanson in order to help. Thank you.
PREVIOUS POSTS ~
FFA, Interact Club, Art Club, Beta Club, Key Club and FBLA are collecting toiletries, hand warmers, games, cards, puzzles, baseballs and gloves, water flavoring packets, and more. Check out the flyers posted throughout school and bring your items to your club sponsor or the agriculture classroom in the 3-story building.
AFTER SCHOOL ~
Flag Football is home against North Springs High School. Stay after school and cheer on our amazing ladies! Friday the Swim Team travels to Harris County! Make the drive and support our Central Lions!
DUES & DEADLINES ~
Senior Fees: $150 until December 16. Cash or check, see Linda Morris in the Media Center.
Yearbook: $75 . Cash, check, or online with PayPal. See Monica Smith in the yearbook room.
Junior Dues: $100 until Thanksgiving break. Cash or check, see Coach Perryman, Ms. Wooten or Ms. Smith.
It's a great day to be a Central Lion and let's remember to have a bright, blissful and beautiful day!