Friday, May 12, 2023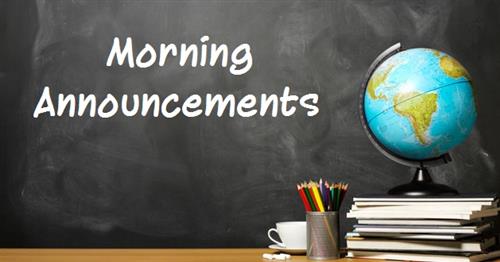 ---
Central High School
Announcements for Friday, May 12, 2023
The mission of Central High School is to provide all students with educational opportunities through a challenging curriculum which meets the needs of a diverse school community.
Teachers -- Please check dress code, have students toss all food and drinks from outside vendors, spit out gum and remove all headgear. Put cell phones away as you enter class. Students may NOT wear earbuds, headphones, pajama bottoms or hats in school.
Students, if you will need your Certificate of Enrollment and ADAP over the summer, be sure to see Ms. Watkins in Student Services by May 17!
Students planning to check out after final exams must pick up a form from Ms. Foley in the Main Office or from Ms. Watkins in Students Services and return it with parent signatures no later than May 17!
SHOUT OUT ~
Today's big shout out goes to the Central High School Track and Field Team for standing on the podium in nearly every event! Congratulations to Owen Wilkinson for becoming the state champion in pole vaulting! Outstanding work team, we are very proud of you!!
NEW NEWS ~
Ice cream is on sale in the lunchroom for the remainder of the year. You get 2 for $1.00. Enjoy a good treat for half the price!!
All lost and found items will be donated if not picked up by the last day of school. See Ms. Watkins in Student Services to find your items.
The Central High Ag. Department will be having our Mothers Day Plant Sale this Wednesday, Thursday, and Friday. in the atrium in the 3-story building starting at 2.30 p.m. each day. Plants will be $2, $5, and $10.
PREVIOUS POSTS ~
Attention Students: Flag Football tryouts are scheduled for May 15-16. Be sure your physical form is on file before trying out! Contact Coach Ivester with questions at bronson.ivester@carrollcountyschools.com.
It's a great day to be a Central Lion and let's remember to slay the day away.