Tuesday, March 10, 2020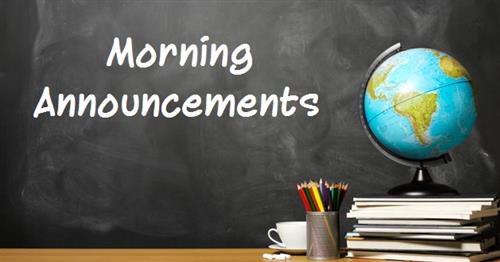 ---
Central High School
Announcements for Tuesday, March 10, 2020
The mission of Central High School is to provide all students with educational opportunities through a challenging curriculum which meets the needs of a diverse school community.
Teachers -- Please check dress code, have students toss all food and drinks from outside vendors, spit out gum and remove all head gear. Put cell phones away as you enter class. Students may NOT wear earbuds or headphones in the hallways.
SHOUT OUT
Today's big shout out goes to the varsity boys and girls tennis teams for playing well yesterday against LaGrange. Elle Jones beat their #1 Single and Ty Thomas beat their #3 Single. Tennis standings are 7 wins and 2 defeats; 2 and 2 in region play. Weather permitting, varsity plays at Bowdon this afternoon.
Our second shout out goes to JV boys tennis for winning 4-1 on the road against Mt. Zion. Winning at singles were Stephen Moye and Will Smith and in doubles, Jacob Schmittou, Clint Rainwater, Brock McWhorter, Mikiak Johnson, Derek Bolden, Reid Crow, and Grant Jiles. The girls fought hard to bring home a win, but fell short.
NEW NEWS
Auditions for this year's talent show will be on Tuesday, March 17, after school in the chorus room. Students should be prepared to perform their full act for the audition. See Ms. Phillips if you have any questions or if the audition time does not fit in your schedule.
The talent show will be held on Friday, April 3, during 6th and 7th periods. Tickets are $2 each and will be sold during lunches leading up to the performance.
If you did not receive your prom invite yesterday during lunch you need to see Mrs. Perryman, Mrs. Wooten, or Mrs. Smith between classes to pick yours up today. If you come in the middle of a class you will not receive an invite.
Thursday, March 12, during all lunches, Sources of Strength will host their kick-off event. Sources of Strength (SOS) encourages peer leadership by empowering students to identify unhealthy behaviors in their peers towards spreading hope, help, and strength by connecting them with an adult in our school. Plan to participate in the activities and learn where you can be a source of strength for yourself and others.
There will be a Pride Club meeting tomorrow after school in room 725. Plan to attend!
DUES & DEADLINES
Yearbook Sales: $90; see Ms. Monica Smith.
AFTER SCHOOL
Varsity soccer plays at home tonight and JV soccer is home tomorrow! Come out and support our Central Lions!
It's a great day to be a Central Lion and let's remember, happiness is found in helping others! How will you make someone's day today?