Friday, May 14, 2021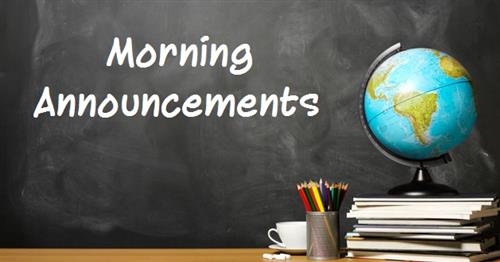 ---
Central High School
Announcements for Friday, May 14, 2021
The mission of Central High School is to provide all students with educational opportunities through a challenging curriculum which meets the needs of a diverse school community.
Teachers -- Please check dress code, have students toss all food and drinks from outside vendors, spit out gum and remove all headgear. Put cell phones away as you enter class. Students may NOT wear earbuds or headphones in the hallways.
Seniors, turn in your Chromebook and cord to the Media Center following your last exam. Chromebooks must be in good working condition and clean.
Attendance Appeals are due TODAY!
SHOUT OUT ~
Today's super big shout out goes to the Ag students and Mr. Clarke for helping move furniture from the Media Center! You are rock stars!
NEW NEWS ~
Key Club is hosting the final meeting of the year next Wednesday, May 19 at 7:45 a.m. in room 732. We will announce next year's officers at that time.
Attention Students: We are excited to announce that Carroll County Health Advocates are hosting a parent and youth panel regarding living with mental illness. Central High School freshman Gracie Warren will be speaking about her journey from the diagnosis to recovery. This event is open to youth and parents in our community free of charge! Please join us Tuesday, May 18 at City Station from 6:00-8:00 p.m. to take part in the conversation.
PREVIOUS POSTS ~
Tickets are on sale for Central High School's production of Disney's The Little Mermaid! Tickets can be bought through the Townsend Center website. Performances are on June 10, 11, and 12. Don't miss this fantastic live production of a Disney classic!
It's a great day to be a Central Lion and let's remember the three (3) 'Ps"; Patience, Positivity and Peace!