Friday, September 11, 2020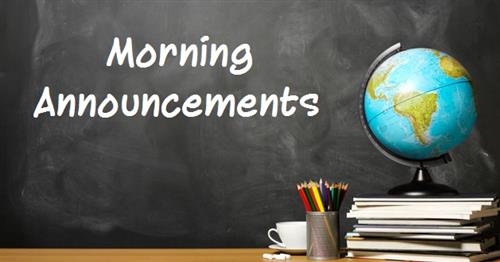 ---
Central High School
Announcements for Friday, September 11, 2020
The mission of Central High School is to provide all students with educational opportunities through a challenging curriculum which meets the needs of a diverse school community.
Teachers -- Please check dress code, have students toss all food and drinks from outside vendors, spit out gum and remove all head gear. Put cell phones away as you enter class. Students may NOT wear earbuds or headphones in the hallways.
Student vehicles parking on campus without a visible parking permit will be towed beginning TODAY. Purchase your permit in the main office.
SHOUT OUT
Today's big shout out goes to the varsity Lady Lions Softball Team for coasting past Southeast Whitfield last night 14-0. The Lions swept the floor with Whitfield, winning all three games in the series. Great job ladies!!
NEW NEWS
Dream Team students need to enter tonight's game through the pass gate. Dream Team students do not need a ticket; your name will be on a pass list. Be sure to move your vehicle by 4:30 p.m. for reserved parking.
FFA is having our first meeting next Thursday, September 17, after school in the Ag department. Make arrangements to stay and join the meeting!
If you received a Spanish Test Out form, these forms must be turned into Ms. Zerr in room 708 by Tuesday, September 15, in order to participate in October.
Any student interested in being on the swim team should stop by the front office and pick up an information sheet. Friday, September 18 is the deadline to sign up for swimming.
If anyone is interested in joining the Central High School Bass Fishing Team, come to the short informational meeting before school Monday, September 14 at 7:50 a.m. in room 414. If you can't make it that morning there will also be a meeting after school in the same room 414. If you can't make either meeting, please come see Coach Nix to get the information.
PREVIOUS POSTS
Homecoming is right around the corner! Check out the online tee shirt store and purchase your class homecoming shirt TODAY! Go to the school website, click the Student button and Student Events for the link.
Students and teachers, Central High School is hosting a blood drive September 17 during the school day from 9:00-2:00 p.m., for students and staff only. In order to give, you must be 16 or older and sign up with Ms. Startup. All donors receive a free tee shirt! Stop by the clinic and signup!
AFTER SCHOOL
The Lions play Temple tonight in the home season opener! The game is SOLD OUT! There will be no walk-up tickets available at the gate. Gradick Sports will be streaming the game LIVE, check the school website for the Gradick Sports Facebook link to view via live streaming.
DUES & DEADLINES
Yearbook Sales: $65; see Ms. Monica Smith.
Senior Fees: $125; see Linda Morris.
Junior Dues: $100; see Ms. Perryman.
It's a great day to be a Central Lion and let's remember the three (3) 'Ps"; Patience, Positivity and Peace!