Monday, October 4, 2021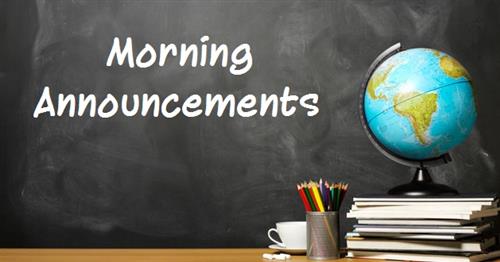 ---
Central High School
Announcements for Monday, October 4, 2021
The mission of Central High School is to provide all students with educational opportunities through a challenging curriculum which meets the needs of a diverse school community.
Teachers -- Please check dress code, have students toss all food and drinks from outside vendors, spit out gum and remove all headgear. Put cell phones away as you enter class. Students may NOT wear earbuds, headphones, or hats in school.
SHOUT OUT ~
Today's big shout out goes to the Marching Pride for sweeping the 2021 Lake Lanier Tournament of Bands on Saturday. The Pride earned all Superior Ratings in every category possible. They also earned First in Class Open, First in the Gold Division, and 1st Overall on the day for the Color Guard, Drum Majors, Percussion, and Band. The night concluded with the Marching Pride earning the Overall Grand Championship with a final score of 94.25. This is the 52nd Grand Championship the Pride has earned. Congratulations on an amazing weekend! Go Pride Go!
NEW NEWS ~
Today's Hispanic Heritage fact is: On July 20 of every year, Argentinians celebrate Friends' Day. Friends gather, parties are held, and everyone gets together until late at night.
Seniors, who in your class is the most athletic? Who is most likely to succeed? Which of your classmates makes everyone smile? Voting for Senior Superlatives will take place on Tuesday, October 5th. We will send the link for voting through the Senior Remind, and voting will be open from 8:00 - 1:30. We will announce senior superlatives on Thursday during the pep rally.
Tomorrow's homecoming theme is Multiplicity Day. Dress as a twin or your favorite "multiple" and show your school spirit!
Today is the final day to sign-up for basketball cheerleading tryouts. All paperwork is due October 18, no late paperwork will be accepted.
Central High School is producing Shrek the Musical in Spring of 2022! Audition materials are available in the chorus room. Auditions will be held October 21, 22, and 25, and you can sign up at the Chorus room. See Ms. Phillips if you have any questions.
PREVIOUS POSTS ~
Basketball cheerleading tryouts are October 18-21. See Ms. Jordan for details.
AFTER SCHOOL ~
JV football plays Chapel Hill High School in Lion Valley tonight. Stay after school and support our team!
DUES & DEADLINES ~

Senior Fees: $150 until December 16. Cash or check, see Linda Morris in the Media Center.
Yearbook: $75 . Cash, check, or online with PayPal. See Monica Smith in the yearbook room.
Senior & Underclassman Photo Makeup: Tuesday, October 19. Use the link to sign up for your time. https://forms.gle/tnRvFeH3s9QkwkMN8
It's a great day to be a Central Lion and let's remember the three (3) 'Ps"; Patience, Positivity and Peace!