Friday, September 16, 2022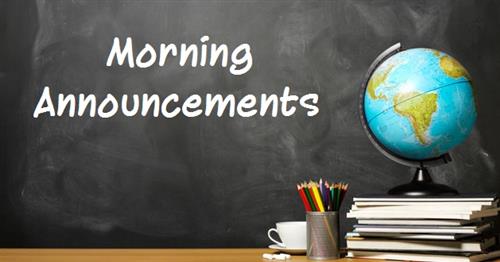 ---
Central High School
Announcements for Friday, September 16, 2022
The mission of Central High School is to provide all students with educational opportunities through a challenging curriculum which meets the needs of a diverse school community.
Teachers -- Please check dress code, have students toss all food and drinks from outside vendors, spit out gum and remove all headgear. Put cell phones away as you enter class. Students may NOT wear earbuds, headphones, or hats in school.
We celebrate Hispanic Heritage Month from September 15 to October 15. Mexico celebrates the beginning of their fight for independence on September 15 and 16.
SHOUT OUT ~
Today's big shout out goes to Ms. Marla Martin for coordinating a great Homecoming parade!
Our second big shout out goes to Jeremy Kayde Wilson for being caught in a random act of kindness. Jeremy consistently holds the door open for fellow students and teachers, many times without receiving a "thank you." Please come to the Media Center for your free tee shirt and photo, and thank you for your kindness.
Our final shout out of the morning goes to our Lady Lions Softball Team!! The ladies won another region game against Southeast Whitfield 16-0. Emma Shoemaker and Chelsea Jeffers led the offense with 3 hits apiece. Izzy Ripatti hit another home run for the Lions, ending the game in 3 innings. Lexi Warren pitched another great game. Great job ladies.
NEW NEWS ~
The Dental Bus will be here next Friday, September 23. Please return dental forms for an appointment to Nurse Cook no later than Tuesday, September 20.
Air Force JROTC is still pre-selling donuts. See a Cadet and get yours! Orders can be picked up next Wednesday.
JROTC is hosting a Blood Drive on Wednesday, September 21 in the cafeteria from 3:00 until 8:00 p.m. See MSgt. Peters for details about how you can give the gift of life.
Interact Club is still collecting backpack supplies! Donate to this worthy cause!
Buddy Club will meet in the cafeteria next Wednesday at 8:00 a.m! Plan to attend!
PREVIOUS POSTS ~
Any students interested in playing boys or girls golf this spring need to attend a mandatory players meeting Monday, September 19 at 3:30 in room 145. If you have any questions or can't attend, please speak with Coach McCarty.
Varsity basketball cheerleading tryouts will be held September 27-29 after school from 3:45-4:30 in the cafeteria. You MUST have a physical on file to try out. See Coach Jordan in 403 for questions and to sign up.
AFTER SCHOOL ~
The Central Lions take on the Northgate Vikings in Lion Valley tonight. As we celebrate Homecoming, be sure to come early to see the presentation of Sweethearts and Kings Court.
DUES & DEADLINES
Senior Fees $125 cash or check made payable to Central High School, see Linda Morris. Fees increase October 8.
Yearbooks: Order online at http://yearbookordercenter.com/ at the cost of $70 until September 30. The cost increases to $80 on October 1.
It's a great day to be a Central Lion and let's remember to slay the day away!