Wednesday, March 31, 2021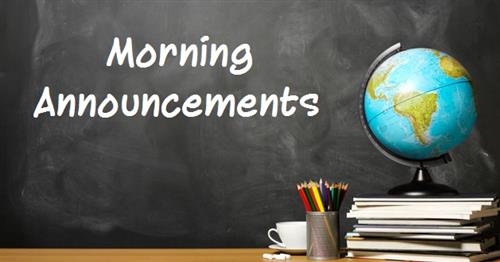 ---
Central High School
Announcements for Wednesday, March 31, 2021
The mission of Central High School is to provide all students with educational opportunities through a challenging curriculum which meets the needs of a diverse school community.
Teachers -- Please check dress code, have students toss all food and drinks from outside vendors, spit out gum and remove all headgear. Put cell phones away as you enter class. Students may NOT wear earbuds or headphones in the hallways.
AFTER SCHOOL ~
Volleyball interest meeting is scheduled in the cafeteria at 6:30 p.m. If you cannot make tonight's meeting, plan to attend tomorrow night.
DUES & DEADLINES ~
Yearbook Sales: $90; see Ms. Monica Smith. Final date to purchase is Friday, April 2, 2021.
Senior Fees: $200; cash only, see Linda Morris.
Prom Fees: Juniors $125, Seniors $70 (for students who did not pay as a Junior). See Ms. Wooten or Ms. Perryman. Date forms and COVID waiver forms are online and available in the classroom. Take care of business early!
It's a great day to be a Central Lion and let's remember the three (3) 'Ps"; Patience, Positivity and Peace!