Wednesday, November 16, 2022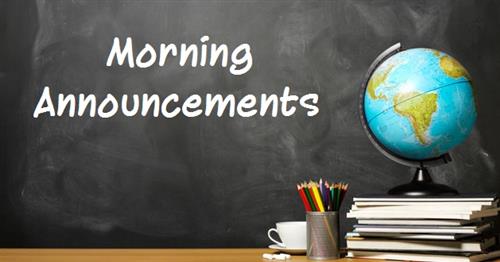 ---
Central High School
Announcements for Wednesday, November 16, 2022
The mission of Central High School is to provide all students with educational opportunities through a challenging curriculum which meets the needs of a diverse school community.
Teachers -- Please check dress code, have students toss all food and drinks from outside vendors, spit out gum and remove all headgear. Put cell phones away as you enter class. Students may NOT wear earbuds, headphones, or hats in school.
SHOUT OUT ~
Today's super big shout out goes to the following students for advancing to the state interview level for the Governor's Honors Program. In the area of Communicative Arts, Kai McMichael and Dylan Mount. In the area of Engineering, Jackson Cobb and Cayden Wilson. In the area of Mathematics, Ashley George and Elizabeth Long. In the area of Music, Makayla Parson and Zoe Stewart. Lauren Gray will interview in Social Studies, Huck Maxwell in Visual Arts, and Isabella Jackson in World Languages. Congratulations to each nominee! Please stop by the Media Center for a photo today.
Our second big shout out goes to the following Lady Lions softball players for being selected to the all-region team. Karley Fuller was selected as the Region Pitcher of the Year, Emma Shoemaker, Izzy Ripatti and Leigha Adams were selected for 1st Team All-Region, Megan Cook and Chelsea Jeffers were selected 2nd Team All-Region and Lexi Warren and Lana Adams were both Honorable Mention selections. Congratulations to our Lady Lions softball players!
NEW NEWS ~
Everyone is welcome at FCA this Friday at 7:45 a.m. to hear sweet music played by our talented students and listen to one of our amazing football coaches, Kelby Watts. We hope to see everyone there. #notjustforathletes
AFTER SCHOOL ~
Today, flag football is home against Villa Rica and Carrollton.
DUES & DEADLINES
Senior Fees $150 cash or check made payable to Central High School. See Linda Morris to pay fees.
Yearbooks: Order online at http://yearbookordercenter.com/ at the cost of $90.
Prom: $100 Juniors, $70 Seniors, cash or check, see Ms. Perryman, Ms. Wooten, or Ms. Abbie Smith.
It's a great day to be a Central Lion and let's remember to SLAY THE DAY AWAY!!