Tuesday, November 15, 2022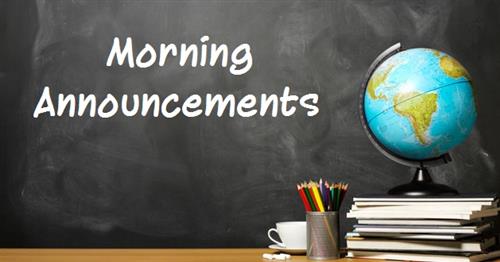 ---
Central High School
Announcements for Tuesday, November 15, 2022
The mission of Central High School is to provide all students with educational opportunities through a challenging curriculum which meets the needs of a diverse school community.
Teachers -- Please check dress code, have students toss all food and drinks from outside vendors, spit out gum and remove all headgear. Put cell phones away as you enter class. Students may NOT wear earbuds, headphones, or hats in school.
SHOUT OUT ~
Today's super big shout out goes to the Central High School Agricultural Sales Team for placing 2nd out of 25 teams in the Area 1 NorthWest Georgia Career Development Event. Team members are Brandon Musick, Carson Smith, Eric Sheppard, and Jase Nunn. The team advances to the top 12 Ag. Sales Teams in Georgia and will compete for the state championship in February, 2023.
Our second huge shout out goes to the Central High School Senior Wildlife Management Team for placing 1st in the Carroll County Young Farmers Career Development Event. Team members are Thomas Good, Brooks Wilson, Carson Smith, and Max Albright.
AFTER SCHOOL ~
Today wrestling travels to Rockmark for duals and tomorrow flag football plays Villa Rica and Carrollton at home.
DUES & DEADLINES
Senior Fees $150 cash or check made payable to Central High School. See Linda Morris to pay fees.
Yearbooks: Order online at http://yearbookordercenter.com/ at the cost of $90.
Prom: $100 Juniors, $70 Seniors, cash or check, see Ms. Perryman, Ms. Wooten, or Ms. Abbie Smith.
It's a great day to be a Central Lion and let's remember to SLAY THE DAY AWAY!!