Thursday, November 19, 2020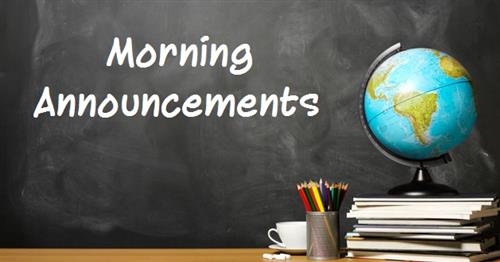 ---
Central High School
Announcements for Thursday, November 19, 2020
The mission of Central High School is to provide all students with educational opportunities through a challenging curriculum which meets the needs of a diverse school community.
Teachers -- Please check dress code, have students toss all food and drinks from outside vendors, spit out gum and remove all head gear. Put cell phones away as you enter class. Students may NOT wear earbuds or headphones in the hallways.
SHOUT OUT ~
Today's huge shoutout to Charlee Causey for placing 1st in sub area Prepared Public Speaking! She advances to Area 1 Finals in December. Congratulations Charlee!!
NEW NEWS ~
Join us for FCA tomorrow at 7:45 a.m. in the wrestling room! Aaron Farley from Old Camp will be speaking, we will have student-led worship and your favorite game! See you then!
PREVIOUS POSTS ~
Students interested in joining the wrestling team need to see Coach Fountain or Coach Pharis. Make sure you have athletic paperwork completed and on file.
Calling all gamers to a Super Smash Brothers video game tournament hosted by Chorus and the eSports team on Tuesday, December 15, in the Chorus room. Students interested in participating in the tournament or attending should register using the QR codes around the school. It is $5 to play in the tournament and $3 to attend. Pre-registered attendees will be fed a pizza dinner and will have access to play several games such as Rocket League, Mario Kart, and Among Us. See Ms. Phillips in the Chorus room to pay the registration fees or if you have questions!
AFTER SCHOOL ~
Central basketball plays at home on Saturday against Heard County! Come out for a great day of basketball and get your tickets at GoFan!
DUES & DEADLINES ~
Yearbook Sales: $85; see Ms. Monica Smith.
Senior Fees: $150; see Linda Morris.
It's a great day to be a Central Lion and let's remember the three (3) 'Ps"; Patience, Positivity and Peace!