Wednesday, January 20, 2021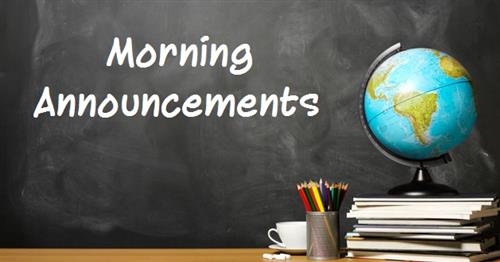 ---
Central High School
Announcements for Wednesday, January 20, 2021
The mission of Central High School is to provide all students with educational opportunities through a challenging curriculum which meets the needs of a diverse school community.
Teachers -- Please check dress code, have students toss all food and drinks from outside vendors, spit out gum and remove all head gear. Put cell phones away as you enter class. Students may NOT wear earbuds or headphones in the hallways.
SHOUT OUT ~
Today's super big shout out goes to the following FBLA students for placing in their respective region competition events. Several are headed to state competition in March!
Caleb Griffis placed 1st place in Impromptu Speaking and will advance to state.
The team of Darby Burns, Addison Denney, and Laney Duffey placed 1st in Social Media Strategies and will advance to state.
Naomi Norbraten placed 2nd in Public Speaking and will advance to state.
Will Smith placed 2nd in Client Services and will advance to state.
The team of Elie Knott and Owen Warren placed 3rd in Intro to Business Presentation
The following students will advance to state in testing competitions:
Owen Warren placed 2nd in Personal Finance
Joey Prater placed 6th in Intro to Financial Math
Nate Handley placed 4th in Economics
Naomi Norbraten placed 6th in Economics
Sara Jennings placed 6th in Business Communications
Caleb Griffis placed 10th in Business Calculations
Charlee Howard, Laney Duffey, and Darby Burns will all advance in Intro to Business Communication
NEW NEWS ~
Central High School is producing the Broadway version of Disney's The Little Mermaid this semester! Auditions are February 5 and are open to all students. Sign-up information and audition materials can be found in the chorus room.
Join FCA this Friday morning at 7:45 a.m. in the wrestling room! Aaron Farley from Old Camp will be there to share some knowledge, as well as your favorite dodgeball game! Come start your Friday morning with friends!
Attention Class of 2022: Senior jerseys are on sale NOW. Online orders will be taken through February 26 through Balfour. A representative will be on campus during lunch January 21 and 22, and February 25 and 26, and February 25 from 4:00-7:00 a.m. in the front atrium. Jerseys will be delivered in time for senior pictures. Don't delay, order today!
There will be a meeting for anyone interested in playing golf on Friday morning at 7:45 a.m. in the field house. If you are unable to attend the meeting, see Coach Fowler.
PREVIOUS POSTS ~
The Super Smash Brothers video game tournament has been rescheduled for Tuesday, January 26, after school in the chorus room. If you previously registered for the tournament, please make plans to attend on the 26.
Calling all actors and actresses! Literary monologue auditions are being held on Friday, January 29, after school in the chorus room. Those who are interested should prepare a one minute monologue for their audition. You can sign up for an audition time outside the chorus room.
Chorus is accepting shoe donations through February! Bring your shoes in today!
AFTER SCHOOL ~
JV girls basketball plays at home tonight against Carrollton. Stay after school and watch our amazing girls play!! Get your tickets at GoFan!
DUES & DEADLINES ~
Yearbook Sales: $90; see Ms. Monica Smith.
Senior Fees: $175; cash only, see Linda Morris. Fees increase to $200 on February 13!
It's a great day to be a Central Lion and let's remember the three (3) 'Ps"; Patience, Positivity and Peace!