Monday, March 29, 2021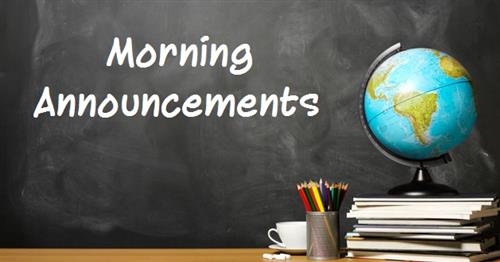 ---
Central High School
Announcements for Monday, March 29, 2021
The mission of Central High School is to provide all students with educational opportunities through a challenging curriculum which meets the needs of a diverse school community.
Teachers -- Please check dress code, have students toss all food and drinks from outside vendors, spit out gum and remove all headgear. Put cell phones away as you enter class. Students may NOT wear earbuds or headphones in the hallways.
SHOUT OUT ~
Today's first shout out goes to the following students who qualified as GHP Finalists.
Alexa Wagner in the area of Agricultural Research, Biotechnology, and Science. William Smith in the area of Music. These students along with Charlee Causey, who qualified as a finalist in Agricultural Research, Biotechnology, and Science last year, will attend the Governor's Honors Program this summer. Congratulations!!
Our second huge shout out and congratulations go to our Central High School Literary team! Our students brought home several wins. Literary Team, plan to meet in the front atrium during morning announcements tomorrow for a team picture!
Olivia Vande Kerkhoff placed 1st in Girls' Solo and will proceed to State.
Owen Buford, Christian Lasseter, Carson Spears, and Will Smith placed 1st in Boys' Quartet and will proceed to State.
Will Smith placed 2nd in Boys' Solo.
Trystan Chastain, Olivia Vande Kerkhoff, and Allee Adams placed 2nd in the Girls' Trio.
Abigail Lee placed 3rd in Rhetorical Essay.
Anna Eddleman placed 3rd in Personal Essay.
Carson Spears placed 3rd in Comedic Interpretation.
Abigail Lee placed 4th in Dramatic Interpretation.
Abigail Lee and Lily Reid placed 4th in Duo Interpretation.
Sachal Denney placed 4th in International Extemporaneous Speaking.
Their efforts brought Central to a win of Region Runner-Up! Way to go, everyone!
Our third shout out goes to the tennis teams for improving their records on Friday by defeating Mt. Zion at home on senior night. Both boys and girls won 5-0, 5-0. Senior recognized were Caleb Williams, Sachal Denney and Derek Bolden.
Our next shout out goes to the Central High School Track Team for setting over 15 personal records. The girls placed first with 16 top 3 finishes and the boys placed 2nd with 8 top 3 finishes! Great job Lions!
Our next shout out goes to the varsity baseball team for having a great Friday! Offensive efforts came from Gage Gray, Kobe Hale, Korben Waldrop and the defense was led by Jaden Traylor and Kellon Rollings, and Jacob Muse pitched very well. Great job Lions!
Our final shout out goes to the Central High School Gymnastics Team for earning another first place finish on Friday night. Three girls finished in the top 5 for all around. Jordan Sneddon finished 2nd, Madelyn Hull finished 3rd and Kirsten Nalley finished 5th.
NEW NEWS ~
Wednesday is a distance learning day, check with your teacher and Google classroom for assignments and meeting times.
PREVIOUS POSTS ~
Attention Students: If you are interested in playing volleyball next year, plan to attend an informational meeting on Wednesday, March 31 or Thursday, April 1, in the cafeteria. Each meeting will begin at 6:30 p.m. If you are unable to attend one of the meetings, contact Coach Chris Smith.
AFTER SCHOOL ~
Soccer travels to Villa Rica tonight. Golf and tennis are in action tomorrow.
DUES & DEADLINES ~
Yearbook Sales: $90; see Ms. Monica Smith. Final date to purchase is Friday, April 2, 2021.
Senior Fees: $200; cash only, see Linda Morris.
Prom Fees: Juniors $125, Seniors $70 (for students who did not pay as a Junior). See Ms. Wooten or Ms. Perryman. Date forms and COVID waiver forms are online and available in the classroom. Take care of business early!
It's a great day to be a Central Lion and let's remember the three (3) 'Ps"; Patience, Positivity and Peace!