Monday, November 16, 2020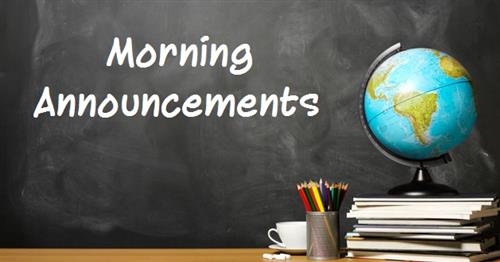 ---
Central High School
Announcements for Monday, November 16, 2020
The mission of Central High School is to provide all students with educational opportunities through a challenging curriculum which meets the needs of a diverse school community.
Teachers -- Please check dress code, have students toss all food and drinks from outside vendors, spit out gum and remove all head gear. Put cell phones away as you enter class. Students may NOT wear earbuds or headphones in the hallways.
SHOUT OUT ~
Today's big shout out goes to Dana Parada for being caught in a random act of kindness. One of her teachers said Dana is a kind person, and has shared her food twice recently with students that said they were hungry in class. Dana, please stop by the Media Center for a free tee shirt and photo!
Our second shout out goes to nine (9) students recommended by the Carroll County School district to move forward in the process and submit a state application for the Governor's Honors Program. Congratulations to the following students in their area.
Anna Stober in Science
Jackson Burns in Social Studies
Brock McWhorter in Math
Kaitlyn Tucker in Visual Arts
Bianka Vinci in Visual Arts
Kira Babbs in Music
William Smith in Music
Anika Roessell in Communicative Arts
Alexa Wagner in Agricultural Research
NEW NEWS ~
The next FFA meeting is this Wednesday after school in the Ag department. Make plans to attend.
Attention seniors, you will vote for Senior Superlatives tomorrow. The voting window will be open from 8:30 a.m. until 1:30 p.m. You will find links posted in the cafeteria, in your senior English classes, and we will also send the voting link through the senior Remind. Stay tuned!
PREVIOUS POSTS ~
Students interested in joining the wrestling team need to see Coach Fountain or Coach Pharis. Make sure you have athletic paperwork completed and on file.
FFA is collecting Cans for Cows through November 18. Please bring your donations to Ms. Dysart's classroom and help support our food drive!
Calling all gamers to a Super Smash Brothers video game tournament hosted by Chorus and the eSports team on Tuesday, December 15, in the Chorus room. Students interested in participating in the tournament or attending should register using the QR codes around the school. It is $5 to play in the tournament and $3 to attend. Pre-registered attendees will be fed a pizza dinner and will have access to play several games such as Rocket League, Mario Kart, and Among Us. See Ms. Phillips in the Chorus room to pay the registration fees or if you have questions!
DUES & DEADLINES ~
Yearbook Sales: $85; see Ms. Monica Smith.
Senior Fees: $150; see Linda Morris.
It's a great day to be a Central Lion and let's remember the three (3) 'Ps"; Patience, Positivity and Peace!